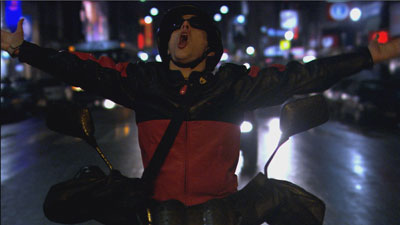 El Ojo Unico, © Flip Films
After months of poring over countless submissions for Young Directors Night, we narrowed the field to eight short films that screened in the Bing Theater on Friday night. Having experienced everything from Symphony's digital journey through space and time to the tune of Vivaldi, to Zombie Prom's rollicking tale of nuclear love, YDN's host committee and audience were faced with the unenviable task of choosing just one winner. After an extremely close vote, Adrian Castagna took home the second annual Art of Film Award with his film El Ojo Unico, an adrenaline-filled foray into a futuristic Buenos Aires where television reigns supreme. Congratulations to Adrian and his entire cast and crew for their victory, as well as those behind all the other fantastic films.
See the Art of Film Award winning El Ojo Unico.
Jason Gaulton, Muse Coordinator