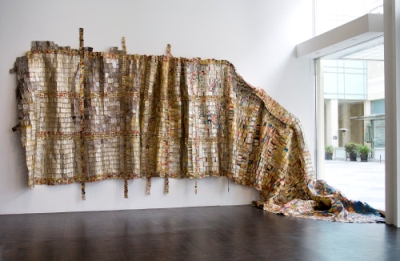 El Anatsui, Fading Scroll, Los Angeles County Museum of Art and the Fowler Museum, UCLA, purchased jointly with funds provided by The Broad Art Foundation, Phil Berg, Robert and Mary Looker, and Margaret Pexton Murray
In a recent conversation with Art Journal, El Anatsui talked about the number of hands that touch his work: "When I saw the bottle tops, what struck me was that they are from bottles that have been used, and therefore human hands have touched them.... People have really drunk from these bottles and therefore human hands have left a charge on them.... I'm constantly looking for anything that has a connection to human hands in a meaningful way." All this talk of hands makes me feel a bit better about my urge to run my own across the work-and, I thought, a perfect reason to share these behind-the-scenes photos of El Anatsui's assistants assembling Fading Scroll.
If you're unable to drop by LACMA this weekend, the good news is that we've just acquired the work jointly with the Fowler, where it will go on view in February.