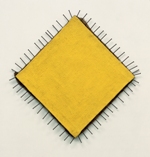 Günther Ueker, Das gelbe Bild (Yellow Painting), 1958, private collection, © Günther Ueker/2008 Artists Rights Society (ARS), New York/VG Bild-Kunst, Bonn, photo courtesy of the artist
Has anyone noticed the abundance of L.A. arts programming related to Germany this winter? The Kippenberger show just opened at MOCA, and our Senior Curator of Modern Art, Stephanie Barron, says it's good (that's all it takes to convince me). In December, an exhibition at the Getty Villa examines the restoration history of a statue from the Dresden State Art Collections, and then of course there's the Ring Cycle at the L.A. Opera in February. I've been working behind the scenes on Stephanie's Art of Two Germanys/Cold War Cultures show at LACMA, which opens January 25 (and in which Günther Ueker's Das gelbe Bild will appear), so I asked her about the confluence of German programming right now. She made an interesting observation: L.A. and Berlin have been sister cities for more than forty years, but it's only been recently that they've evolved, seemingly simultaneously, into culture capitals with fertile artist populations. Speaking of simultaneous--this year Berlin and California have both presented biennial exhibitions. The Berlin show and the California show are both quite young; the former was established in 1998 and the latter in 1984. Pretty close on the emergence timeline, considering the Whitney Biennial has been around since 1932 and Venice Biennale has been going strong since 1895.
P.S. This turns out to be a serendipitous post—I didn't realize the L.A. Opera was making their big arts festival announcement today.