Damien Hirst's works were deinstalled last month as LACMA prepares for the Art of Two Germanys/Cold War Cultures exhibition opening in late January. If you didn't get to see Hirst's spectacular butterflies, I recommend seeing them live in their natural habitat. Every winter the Monarch butterfly makes its annual migration south to warmer climates, traveling from as far north as Canada to as far south as Mexico. There are various spots along the California coast where the butterflies stop, but my favorite is a secluded area a little more than an hour's drive north of Los Angeles.
The Coronado Butterfly Preserve is roughly ten acres of land protected by the Land Trust for Santa Barbara County. It's quite unassuming—parking access is in a residential area, where the trail of the preserve leads to a dense section of trees and other vegetation that's known as the Ellwood Monarch Grove. There you'll find thousands of butterflies huddled in trees for warmth: pay special attention to the signs. The subtle movement of wings fluttering is constant, but almost invisible; words can't describe what it's like to see trees appear to breathe.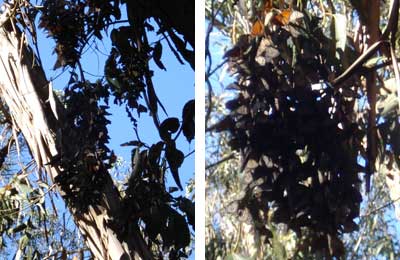 Hirst's fascination with butterflies and their life cycle have been seen in his work since the early nineties. In and Out of Love, an exhibition installed in 1991, included hundreds of live butterflies, some even attached on canvases in the pupae stage. While Hirst was able to bring an ecosystem into a gallery space, now is the best time to observe the butterflies in the open. Peak butterfly sightings at the Coronado Preserve are from December to January; by March they'll have moved onward, travelling along their migratory path. Hirst's works of "stained glass" may exude an ornate sense of wonder, but the natural trompe l'œil of the butterflies in the preserve are just as breathtaking.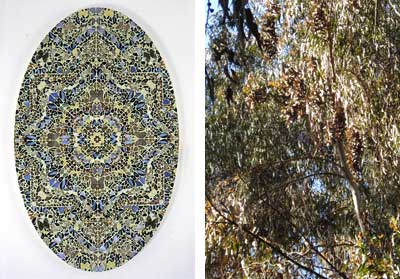 Devi Noor, Curatorial Administrator, American Art