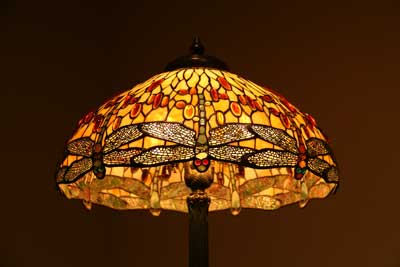 Floor Lamp, c. 1905, designed by Louis Comfort Tiffany, made by Tiffany Studios, promised gift of Max Palevsky and Jodie Evans
In a recent contribution to "Critic's Notebook," Los Angeles Times art critic Christopher Knight admirably asserted the central importance of permanent collections to art museums. He wrote that "falling in love with the permanent collection is how the public makes a long-term commitment to the museum that houses those works." I share this belief, and it resonated somewhat literally when I had a chance to see Masterworks from the Max Palevsky and Jodie Evans Collection, an intimate exhibition of exquisite Arts and Crafts objects made around 1900 and recently promised to LACMA. Palevsky and Evans' promised gift of forty-five objects, in addition to hundreds of gifts previously made, profoundly enriches LACMA's collection of Arts and Crafts material—the most comprehensive of any museum in the United States.
As foremost collectors of such material for more than thirty years, Palevsky and Evans live with the objects most of us can only dream of owning. But ultimately LACMA will house these in our permanent collection, and a visit to see them here means the museum is also "your house." Visit the exhibition now to imagine reading beneath a magical Tiffany lamp of upside-down dragonflies; they have red and green glass eyes that glow like rubies and emeralds in the lamplight, as do the amber-colored glass pieces speckling the leaded glass shade as if an enlargement of a section of their delicate wings. You can pretend to have shopped at Liberty's on Regent Street in London for the elegant silver, enamel, and turquoise flagon, from which you will pour drinks for your guests. Or you can picture storing your precious items inside an inlaid jewelry coffer, then gazing out through a strikingly patterned stained glass window made by Frank Lloyd Wright. I bet you will be smitten, as I was, upon seeing the extraordinary beauty of these rare objects.