Last month I went to Elysian Park and stumbled across Peter Shire's installation in honor of its protectors Frank Glass and Grace E. Simons. Shire, a local Echo Park resident who also designed LACMA's American art reading area and information kiosk, has unmistakably recognizable work, with its stark industrial forms and whimsical shapes and colors.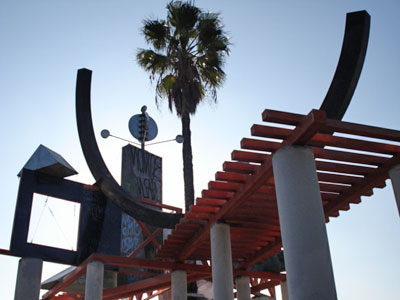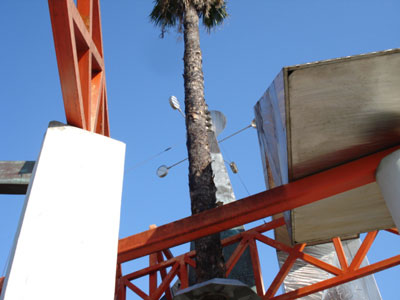 Based on the photos I took at Angels Point (above) and his works in LACMA's collection (below), you can easily see how this work is adverse to its environment of approximately 600 green acres—the oldest park in the city.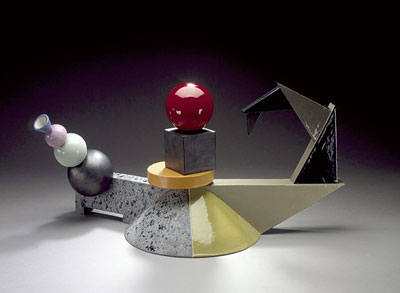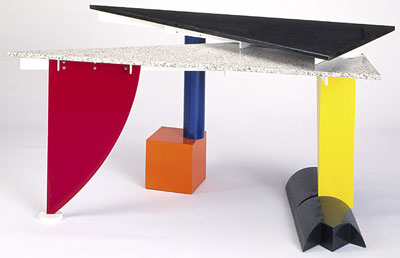 I was wondering how this installation could connect with its surroundings in a large verdant park until I saw this picture of the installation from Metromix's website: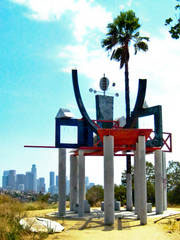 Photo by Sophia Kercher
Taken from the viewpoint on the path leading toward the installation, the shapes of the columns bear a striking resemblance to the streamlined landscape in the background. The installation encapsulates a palm tree as one of its columns; to me it's a work that defines Los Angeles as a metropolis built among its natural geography. Atop Angels Point, the hills, valleys, and man-made constructions are all within sight. The chairs Shire designed underneath the installation command panoramic views of Dodger Stadium, the downtown skyline, and the Hollywood Hills in the distance-a well-commemorated spot for taking in L.A.'s urban and natural vistas.