Earlier this month, the Bushell Netsuke Collection: Carvings of the Nagoya Region went on view in the Pavilion for Japanese Art. Netsuke are small carvings that in pre-modern Japan served as counterweights attached by a cord to hanging containers used to carry small personal articles. One of the most beautiful examples in the entire Bushell collection (in my opinion) is part of this installation of more than 150 objects—Kano Tomokazu's Horse and Rat.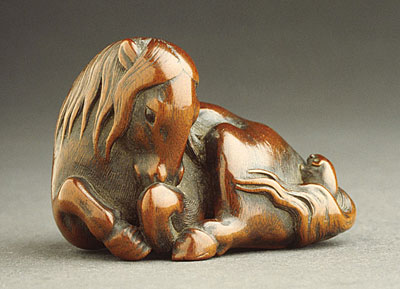 Kano Tomokazu, Horse and Rat, Raymond and Frances Bushell Collection
This piece is a wonderful example of all the traits that have come to be associated with the netsuke of this region in its material (wood), small size, compact and naturalistic treatment, and animal theme. Animals of the zodiac—of which both the horse and rat are included—were among the favorite subjects of these carvers. It should be noted that Horse and Rat, as well as the other objects on view, are miniature sculptures, and they have been installed with that in mind. Just as one would place a larger sculpture in a gallery so that it could be viewed from various angles, so too would one (ideally) install netsuke. The gallery layout and cases in LACMA's Raymond and Frances Bushell Netsuke Gallery were specially designed so that almost every netsuke and all the inro ensembles (individual hanging containers attached to both an ojime—sliding bead closure—and a netsuke) can be viewed in the round.
Christine Drosse, Curatorial Administrator, Japanese Art