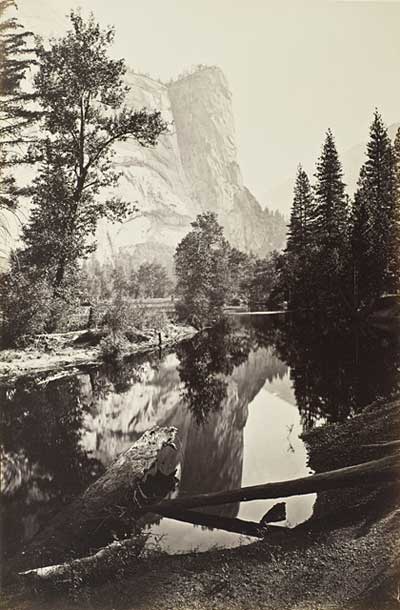 Washington Column, 1866
Carleton Watkins (1829–1916) is one of the most extraordinary American photographers ever (and one of my personal favorites). LACMA has twelve Watkins photographs, nine of which entered the collection just last year as part of the landmark Vernon Collection, including Washington Column (c. 1866) and Eagle Creek, Columbia River (1867). What I am struck by over and over when I see his work is the extraordinary compositional sophistication Watkins brings to everything he photographs, whether it is an epic vista at Yosemite or a frontier outpost. Often working with a mammoth plate camera, shooting from a precarious perch, and developing negatives on the spot, Watkins remained remarkably attuned to the formal characteristics of his subject, from how he framed a shot to the visual texture of the elements within, especially trees.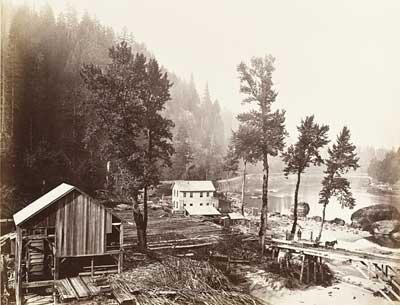 Eagle Creek, Columbia River, 1867
The image of Eagle Creek at the Columbia River in Oregon, which was part of LACMA's recent exhibition A Story of Photography: The Marjorie and Leonard Vernon Collection, seems at first glance to be a snapshot of an isolated frontier settlement, perhaps a simple document of development in the region. But notice how we hover over the foreground of the image. On what was Watkins standing to take this picture? Because we are thrust into the scene, and because of the careful composition—in which the tree at left is contained within the profile of the tree-covered hillside in the background, and the three spindly trees at right echo the angle of that background—we become aware of the subtleties of this picture. I fixated especially on the juxtaposition of the jumbled pile of raw lumber in the foreground with the orderly wooden planks of the mill and the large platform behind. This creates a striking visual effect as well as a metaphor for the efforts of these settlers trying to contain and capitalize upon the Oregon wilderness. And I could go on!
Eagle Creek, Columbia River offers just one example to demonstrate how rich these images are formally as well as what they can tell about the history of the American West. Fortunately, these themes are the subject of the major Watkins exhibition in its final weeks at the Getty: Dialogue among Giants: Carleton Watkins and the Rise of Photography in California. This exhibition presents a rare and important opportunity to see so many amazing Watkins photographs, images that are intimately tied to the history of this region. And you can see an actual mammoth plate camera too.