Big art has it easy. Of course you look at it—it's enormous. But small art has its power too. It's intimate, it draws you in. In fact, sometimes to simply find out what it represents, you have to get so close that it ends up being all you can see.
That was my experience the other day when I happened on the 7.5 by 5 inch Copenhagen: Roofs Under the Snow by Peter-Severin Krøyer. It's easily the smallest work in its gallery, where it appears to be the size of a framed postcard.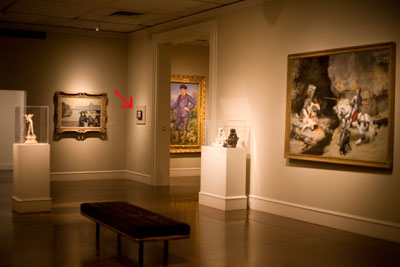 On closer inspection, I found this mysterious and beautiful little oil painting: a view, evidently from an upper-story window, of snow-covered rooftops, apartment building walls, and a city that recedes in a wintry fog. It's one of the best paintings I can recall at conveying the feeling of a winter afternoon: the infinite distance from cold sky to warm building, the way that snow absorbs light as it falls.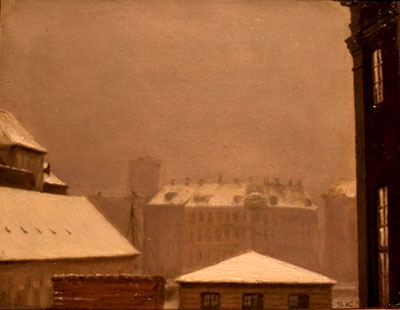 Peter-Severin Krøyer, Copenhagen: Roofs Under the Snow, late 19th century, promised gift of Marilyn B. and Calvin B. Gross
To learn more I went to see Patrice Marandel, LACMA's chief curator of European art. He discovered the painting in a Paris gallery several years ago and found it to be evocative, wonderful, and a bit odd, with something of an eerie feeling. "Krøyer is a painter who is quite famous for something else entirely," he said. "His trademark image is women in long, floating gowns, walking along the beach."
In any case the curator liked the winter painting enough to set its acquisition in motion. Today it is a promised gift, found in the David and Sylvia Weisz Family Gallery of the Hammer Building. "People love it," said Patrice, "because it's small and such an ambitious project, to represent a city view on a painting the size of a postcard—to create atmosphere, emotion, and feelings."