If I had to depict a curatorial space in a movie, I would model my set after LACMA's South and Southeast Asian (SSEA) art office. While the entire collections of many other departments are tucked away in storage, a number of the SSEA objects are kept in this enviable space.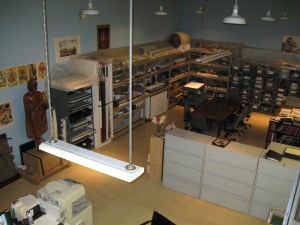 There's something unreal about crossing the threshold from the galleries to the office and suddenly, surprisingly, encountering form beside function—a majestic, patinaed thirteenth-century statue next to the business-ubiquitous copy machine…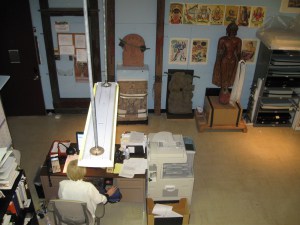 In a closer look at the sculpture, you can clearly see a scarf resting in its hand. It is a Tibetan kata (honorific presentation scarf) that the department received from the co-chair of the Southern Asian Art Council, Dr. Ruth Hayward. It's customary to honor visiting Buddhist monks and high officials by presenting them with these textiles. Curator Stephen Markel draped the kata over the Buddha's hand out of respect, and also to help keep visitors from bumping into the projecting hand.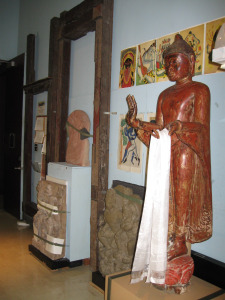 Buddha Shakyamuni, c. 13th century, Art Museum Council Fund
The SSEA department really lives with its art. Here's an eighteenth-century door frame. It no longer frames a door—rather, notices on emergency exits and procedures along with instructions for the aforementioned copier.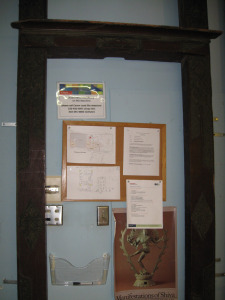 Door Frame,18th century, the Nasli M. Heeramaneck Collection, gift of Joan Palevsky
Treasures line the walls, including the area surrounding the conference table. For me, meetings become instantly enjoyable just by virtue of attending them in this space. In fact, I recently sat here to discuss the upcoming Indian Comics exhibition with the SSEA team and, though I'd been here many times before, I was just as in awe as ever.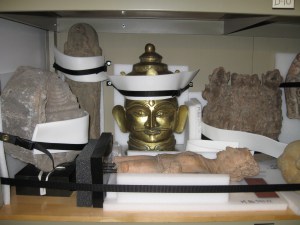 Shivalinga, 17-18th century, gift of Ramesh and Urmil Kapoor