I am really excited to announce the book launch for LACMA's Photography Department project, Words Without Pictures. For one year on the web site wordswithoutpictures.org, we asked an artist, educator, critic, art historian, or curator to write a short, un-illustrated, and opinionated essay about an aspect of photography that, in his or her view, was either emerging or in the process of being rephrased.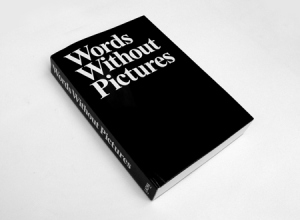 At 502 pages—all words and no pictures—the book is an impressive document, with contributions from artists and critics including James Welling, Sharon Lockhart, George Baker, Walead Beshty, Allen Ruppersberg, Allan McCollum, Charlie White, Mark Wyse, Shannon Ebner, John Divola, and many others. In addition to the book's essays, conversations, and panel discussions, we also included a series of questions and answers about the contemporary state of photography. Here's a quick glimpse at a few of them…
Q: What would you consider some of the most important changes that photography has undergone in the last few years?
A: Photography has always been based on new technologies and inventions have always brought change to the medium. The most surprising change is how many more people are working in photography and the ease of using the medium through digital technology. Photography is so prevalent and the communities around Flickr and other web sites have created a very large audience. It used to be you joined a photo club and you sat in a darkened room watching someone's slide show of a trip. Now you sit in front of a computer screen and sort through thousands of photographs and blogs.
Q: Do you enjoy looking at photographs online?
A: I don't look at photos online, not intentionally, that is. If you're referring to art photos, I'd much rather look at them in person. I'm dismayed by the fact that my work is often consumed, at least upon first encounter, in jpeg form. The real thing sometimes disappoints. The illuminated screen offers a punchier image, a sexier image. And as the first image, it sets an impossible precedent. They are apples masquerading as oranges.
Q: What would you consider some of the most important changes that photography has undergone in the last few years?
A: I think the single most significant change has been the transformation of images into immaterial—digital—information that can spread like wildfire around the world. This change, together with the inclusion of cameras in mobile devices and the increase of cell phone use around the world, has had the unintended consequence of putting cameras in more people's hands than ever before—soldiers (and torturers), protesters in Myanmar and China, ordinary people all around the world witnessing and documenting historical events and everyday life.
For much more discussion on photography, to meet some of the book's authors, and to celebrate its release, please join us at LACMA's Director's Roundtable Garden Tuesday, May 26 at 7 pm. Hope to see you there.
Alex Klein, Ralph M. Parsons Curatorial Fellow, Wallis Annenberg Photography Department