LACMA's Art Rental and Sales Gallery occupies several hallways underneath the Bing Center, including the one outside my office, so my coworkers and I are used to a regularly shifting selection of work from local artists.
Several years ago, one small collage caught my eye. It was hung in a short connecting hallway leading to the Hammer Building elevator. A bit oddly, it was hung higher on the wall than the other pieces. And it had no label.
I eventually noticed, too, that while other artworks would come and go, this anonymous collage stayed in place. I imagined it orphaned by its maker and, with no one to return to, it had been left to stay in a little-known corner of the back hallways of LACMA. It had insinuated its way into our permanent collection, like a stray that takes a shine to that secluded spot under your porch. I found this rather appealing.
Taking the back way to the Hammer one day, I noticed that a small label had finally appeared.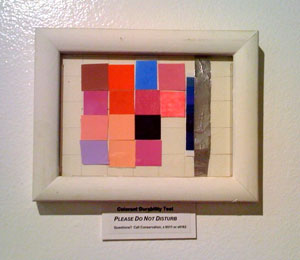 Colorant Durability Test
 PLEASE DO NOT DISTURB
Questions? Call Conservation
Ah.
One local institution trades in such ambiguities every day. (Well, strictly speaking, it trades in such ambiguities on Thursdays through Sundays.) Shortly before I moved to L.A., I was in town visiting my sister. One afternoon, with only the barest of explanations, she took me to an unassuming storefront in Culver City. I looked at the sign and laughed: The Museum of Jurassic Technology?
"Is it… a comedy club?" I asked.
She smiled enigmatically.
The Museum of Jurassic Technology, Culver City
As my eyes adjusted to the dim light, I dutifully read every word of every label (my future as a museum editor evidently being fated). Somewhere between the animation of the Plane of Experience passing through the Cone of Obliscence (from Geoffrey Sonnabend's Theory of Forgetting and the Problem of Matter, naturally) and a gallery featuring displays of such folk practices as the duck's breath cure, mice on toast, and the malevolent uses of scissors, I turned to my sister. She was now grinning outright.
"It's all fake, isn't it?" I said. "It's a satire of a museum."
"That depends on your definition of it, is, and fake," she said.
And, I eventually realized, on your definition of satire and museum, too.
The brainchild of David Wilson, the MJT has been home for nearly twenty years to a wondrous array of permanent collections and temporary exhibitions, brilliantly (if eccentrically) curated to blend the lofty and the kitsch, the historical and the fantastical.
I take my own out-of-town guests every chance I get—of course, with only the barest of explanations when they first ask what it is.
Sara Cody, Editor, Publications Department