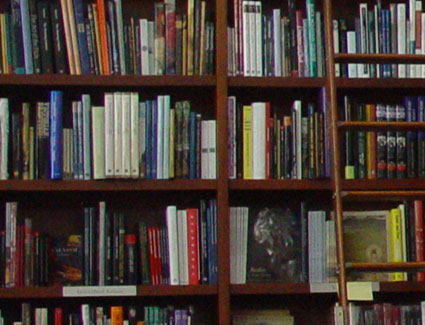 Since summer is officially here, I thought it would be great to catch up on some summer (art-related) reading.
Whether you frequent the library, bookstore, LACMA's museum store, read e-books online or via Kindle, or listen to books on tape/podcast, here are some recommendations from our fellow Tweeps on Twitter to get you started. If your favorite art-related book is not listed, feel free to post in the comments section.
Adult Fiction:
Lewis Croft, The Pornographer of Vienna (novel inspired by life of Austrian artist Egon Schiele)
Jesse Kellerman, The Genius
Jane Langton, Murder at the Gardner: A Novel of Suspense: A Homer Kelly Mystery
Gregory Maguire, Confession of an Ugly Stepsister (a well-known fairy tale from a different point of view that includes a well-known artist)
W. Somerset Maugham, The Moon and Sixpence (novel based loosely on the life of Gauguin)
Iain Pears, The Raphael Affair, The Titian Committee, Giotto's Hand, etc.
Douglas Preston and Lincoln Child, The Relic (fiction set in New York's Museum of Natural History)
John Shors, Beneath a Marble Sky (historical fiction involving the development of the Taj Mahal)
Tim Powers, The Anubis Gates
Émile Zola, The Masterpiece
Mary Kay Zuravleff, The Bowl is Already Broken (novel set around a fictitious museum by former Smithsonian editor)
Adult Non-Fiction:
Bruce Altshuler, Salon to Biennial: Exhibitions that Made Art History, Volume 1: 1863–1959
Roland Barthes, Camera Lucida
Judy Chicago, Through the Flower: My Struggle as a Woman Artist
Douglas Crimp, On the Museum's Ruins
Gregory Curtis, Disarmed: The Story of the Venus de Milo
Hayden Herrera, Frida: A Biography of Frida Kahlo
Daniel J. Sherman, ed., Museums and Difference
Slinkachu, Little People in the City: The Street Art of Slinkachu
Kirk Varnedoe, Pictures of Nothing: Abstract Art since Pollock
Children's Books:
Menena Cottin, The Black Book of Colors
Ian Falconer, Olivia
E. L. Konigsburg, From the Mixed-Up Files of Mrs. Basil E. Frankweiler
Greg Tang, Math-terpieces
Besides the standard book-buying sites, here are more sources for finding more art/museum-related books:
Kohl Children's Museum's Suggested Reading List