You may recall the "lattice of coincidence" theory from Repo Man—that, if you are thinking of a plate of shrimp, and someone suddenly says "plate," or "shrimp," or "plate of shrimp," though it may seem meaningless, it's "all part of a cosmic unconsciousness."
I experienced this phenomenon the other day while seeing Collecting History, MOCA's exhibition of acquisitions from the last five years. Our own show Pompeii and the Roman Villa was on my mind, and at MOCA I found not one but two works with "Pompeii" in the title.
Eerie, no? Or not so much? It seems artists have always found source material in the lost city. Pompeii and the Roman Villa has a section for artists who came along many centuries later (as recently as 2001) finding inspiration in the last days, the rain of fire, the excavated ruins.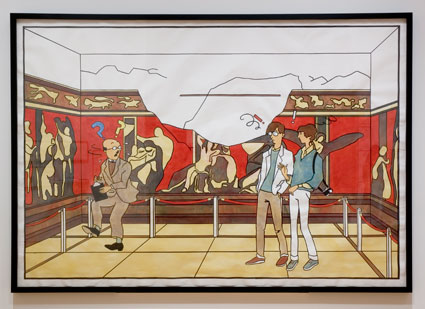 Lucy McKenzie, "Cheyney and Eileen Disturb a Historian at Pompeii," 2005, The Museum of Contemporary Art, Los Angeles, purchased with funds provided by the Drawings Committee, image courtesy of MOCA
One of the pieces in the MOCA show is Lucy McKenzie's 2005 mural-within-a-mural Cheyney and Eileen Disturb a Historian at Pompeii. With its cool adaptation of the Tintin style and free association of historical elements, it seems to suggest a time warp more than a simple run-in between scholar and tourists. It's a big inviting work and one of my favorites in the show.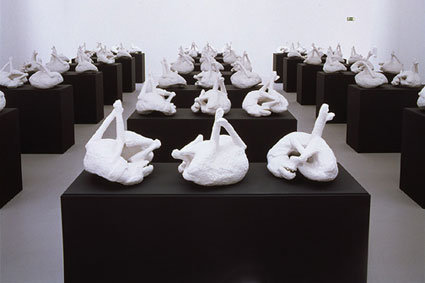 Allan McCollum. "The Dog From Pompei," 1991. Cast glass-fiber-reinforced Hydrocal. Replicas made from a mold taken from the famous original "chained dog" plaster cast of a dog smothered in ash from the explosion of Mount Vesuvius, in ancient Pompeii, in 79 A.D. Produced in collaboration with the Museo Vesuviano and the Pompei Tourist Board, Pompei, Italy, and Studio Trisorio, Naples, Italy
If Lucy McKenzie uses present-day Pompeii as a setting for a mid-century illustrative style, Allan McCollum's The Dog from Pompei* (1991) takes us very close to what actually happened at Pompeii in 79 AD. Using a contemporary mold derived from an original plaster cast made in 1874, McCollum has replicated many times over the form of a watchdog who died smothered in the ash that buried Pompeii.
The artist spoke in a 1992 interview about choosing the dog among other cast artifacts of Pompeii. "At first I was afraid of the drama of the thing. It seemed so incredibly overdramatic, dramatic beyond any necessity. But in the end I think I chose it because it is so poignant, so evocative. I mean, people have actually cried when they've seen it—when they see my copy of it."
McCollum has also replicated dinosaur bones and sees a unique value in copies made by nature. "…I felt that if representation is a sort of alienating mechanism maybe these objects sort of corrected, or bridged, that gap, or naturalized the relationship between the copy and what the copy represents in some uncanny, symbolic way because they are naturally made copies."
* McCollum uses the modern single-"i" spelling of Pompeii to emphasize that the mold for the work was made in 1991, from a second-generation cast found in the Museo Vesuviano.