The Art Rental and Sales Gallery may be one of the best-kept secrets at LACMA thanks to its low-key location just around the corner from our Brown Auditorium. The "gallery space" is made up of the surrounding hallways and features regular exhibitions of artists mostly based in Southern California. Unlike the other galleries in the museum, here the artwork is actually for sale (or for rent, if you're a member).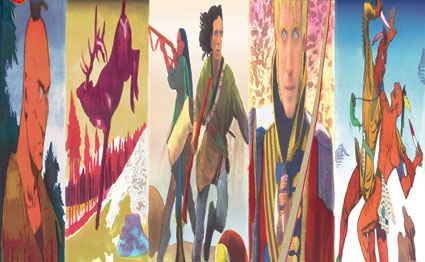 Aaron Morse, "Deerslayer," 2006
Founded by the Art Museum Council (then the Junior Art Council) in 1954, the ARSG was born out of an interest in artists being shown in the galleries that lined La Cienega Boulevard, which at the time was a burgeoning center for the L.A. art scene. The ARSG's goals were to encourage support for California artists and to raise money for the museum. Many artists whose works were considered experimental or controversial when first shown in the galley went on to establish international reputations.

Alexis Smith, "Lust Rust Dust (Red and Blue-scale)," 2004
On view in the ARSG through the end of October are a special selection of prints, many of which are available for purchase, that have been commissioned by LACMA's Prints and Drawings Council over the years. Since 1965 the PDC has commissioned prints by a who's who of artists, from Alberto Giacometti to Ed Ruscha to Shepherd Fairey. This small show is a chance to look back on artworks we've commissioned in the past—and is also an opportunity to look forward.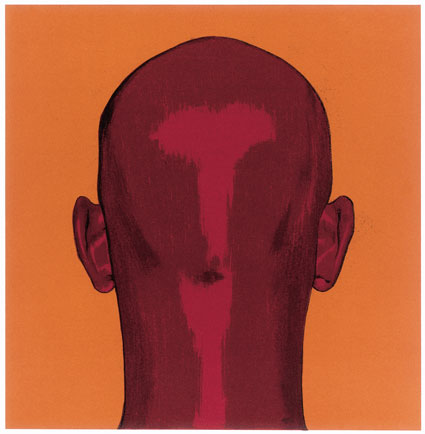 Salomon Huerta, "Untitled (Back of Head on Orange Field)," 2002
In an effort to continue with the councils' original philosophy of supporting artists as well as supporting the museum, our curators are working with the AMC to introduce an editions program that will promote both emerging and established artists primarily working in Los Angeles. Be sure to drop in on the gallery next time you're in the museum, and stay tuned to future posts as this program develops.
Erin Wright, Director of Special Projects