I've been at LACMA for more than four years, but until last week I had yet to step foot into our research library. Partly I was put off by the "research" bit; since I'm not a scholar, I figured my kind probably wasn't welcome. And the "by appointment only" sign on the door also scared me off. The place just seemed way too intellectually exclusive so I kept my distance. But, on a quest for information on a past exhibition, Scott dragged me down the hall to check it out for the first time. And of course, I walked through the door and instantly fell in love. I have really been missing out for the last four years.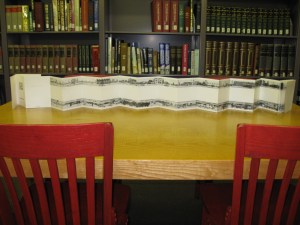 Ed Ruscha's "Every Building on the Sunset Strip"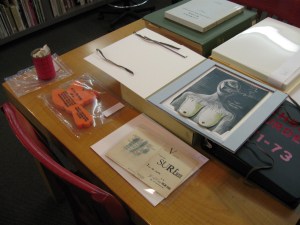 A smattering of Surrealist ephemera
The extensive, non-circulating collection of 175,000 books, journals, and periodicals contains everything from exhibition catalogues to, as I found, Ed Ruscha's classic Every Building on the Sunset Strip book. And here's the best part—not only was I welcome there, but so are you. The research library is open to the public by appointment (call 323 857-6118 or email library@lacma.org.) Monday, Tuesday, Thursday, and Friday. I'll be back again soon to pull out some of the gems the library staff shared with me including the surrealist ephemera above and, particularly pertinent to my job, this old press clipping book—an entire volume devoted entirely to the controversy surrounding the exhibition of one of our iconic (and lightning rod) works, Back Seat Dodge '38 by Ed Kienholz. Great headline, right?