I got a draft card for the Vietnam War but came of age as it was ending, so my draft card never got put to the test. As is the case with most people, my picture of what it is to be a soldier is hypothetical—drawn from books (Tolstoy, Tim O'Brien, Michael Herr) and movies (Terrence Malick, Kathryn Bigelow) and the occasional experience of someone I know. There is a small photograph of my father standing by a jeep with a radio in World War II, but it gives me no clearer sense of his experience than is suggested by the question, "And what must that have been like?" It's the same question anyone could ask. So I'm not sure why I volunteered to select an image from the museum collections to go with Veterans Day 2009–maybe to find out what sort of image would do that, for me. Mostly when I think of soldiers I think: hard work and loneliness. The hard work is obvious—armies throughout history always seem to be on the way somewhere, and the very transportation (leaving aside the question of what you are going toward) is arduous.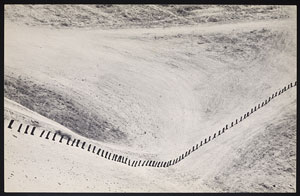 Eleanor Antin, On the March, 1971-1973 Print, postcard, Picture postcard, purchased with funds provided by the Richard and Hinda Rosenthal Foundation, the Modern and Contemporary Art Council, the Nathan B. Cooper Memorial Fund, Sherry and Michael Kramer, and David and Suzanne D. Booth
As for the loneliness, I know that warriors are often portrayed as Shakespeare's band of brothers, moving about in groups, developing the bonds that survival or simple perseverance requires. But then I think, you're far from home, you're young, you're trying to both play the part and be the part—of course it must be lonely. I especially understood that when I saw this 1972 photograph by Ralph Gibson. It reminded me somehow of a photograph I saw earlier today, in the New York Times, of soldiers running in the rain at Fort Hood—together, but also each one alone.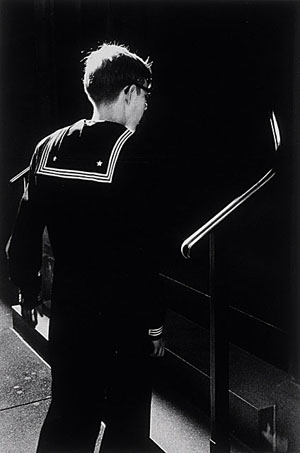 Ralph Gibson, Untitled (sailor at steps), 1972 Photograph, Gelatin-silver print, Gift of Sue and Albert Dorskind