Followers of our Twitter account know that we have three able tweeters here at LACMA—Allison, Devi, and Erin. In light of the impending Turkey Day this week, we thought we'd give them a break today and turn Twitter over to an art- and food-obsessed guest.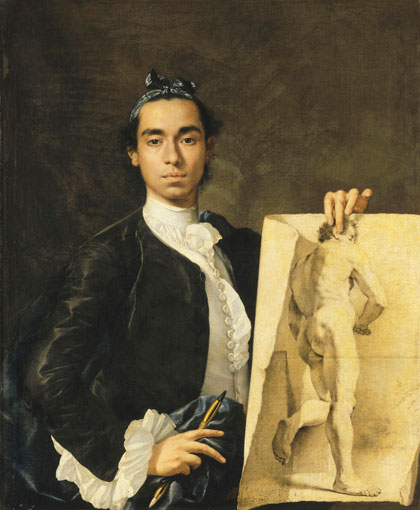 Luis Meléndez, Self Portrait, 1746, Musée du Louvre, Réunion des Musées Nationaux/Art Resource, NY, photo: Hervé Lewandowski
Through some proprietary technological advances which we are not at liberty to divulge, we hacked into eighteenth-century still life master Luis Mélendez's Twitter feed and will be sharing some of his tweets throughout the day. Luis was on Twitter a lot back in the day—starting when he worked in his father's studio, through his days in school, and all the way up to the end of his life when he died a pauper. After culling through his many tweets, we've gathered up a greatest hits that tell of all his ups and downs—mostly downs, by the way.
Follow Luis all day today to get the story of his (mostly miserable) life. If you're coming to this series late, you can head over to Twitter and search #miserablemelendez and all of his tweets should appear in one place.
Once you've read the tweets of his life, stop by the museum this weekend to see the exhibition, which closes January 3. (And if you're a member, here's a little added incentive.)