A few weeks ago we featured some before-and-after comparisons of some of the Los Angeles-area locations featured in New Topographics, on view through the end of the year. There were a couple of mystery spots, however, that we couldn't locate, so we challenged our Unframed readers to help us out. Thanks to commenters Sue and Michael we've identified the correct coordinates! Frank Gohlke's Landscape, Los Angeles, 1974, was shot at West 4th and South Hill Streets in downtown Los Angeles, and Henry Wessel's Hollywood, 1972, was snapped at De Longpre Avenue and North Gower Street. Good detective work, Sue and Michael!
Here's the proof.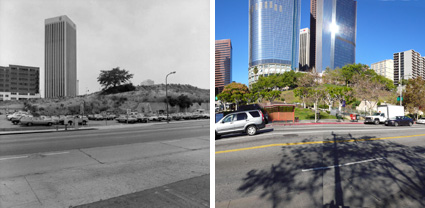 Left: Frank Gohlke, Landscape, Los Angeles, 1974. Right: Composite from three images of West 4th and South Hill Streets facing northwest. This was a tricky one! Notice that the wall behind the white truck on the right and the streetlamp match Gohlke's original.

Left: Henry Wessel, Hollywood, 1972. Right: De Longpre Avenue and North Gower Street facing east toward a wall of Sunset Gower Studios.
For those of you in the rest of the country, here's your chance to go hunting, too! Take a look at this Google map that indicates the locations of almost all the photographs on display in New Topographics. Some of the exact locations are a mystery—even the photographers don't remember where they were. These are indicated as approximate on the map. But several of the pins represent exact locations indeed, such as most of Nicholas Nixon's work in Boston and John Schott's photograph of what is now the Wigwam Hotel in Holbrook, Arizona. Take a look and see if you can see what any of these New Topographers saw back in the seventies in a town near you. Let us know what you find and how it looks today.
Sarah Bay Williams, Ralph M. Parsons Fellow, Wallis Annenberg Photography Department