Mysteries abound in the art treasures of LACMA, and none more profoundly puzzling than The Aristocratic Women, on the fourth floor of the Ahmanson Building in the South and Southeast Asian art gallery.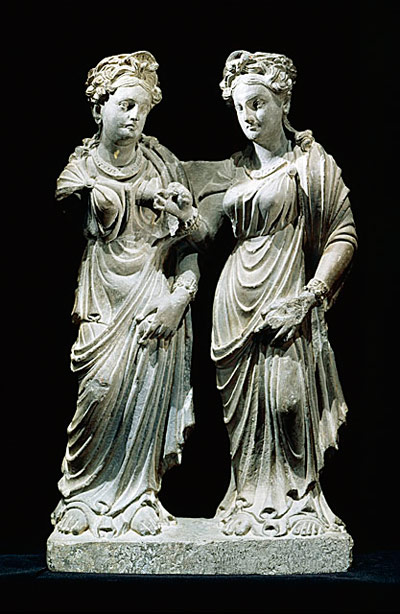 Pakistan, Gandhara region, South Asia, "The Aristocratic Women," illustration of the tale of "The Necklace of Thread," from the "Maha-Ummagga Jataka" (Story of the Great Tunnel), 2nd century, purchased with funds provided by Mrs. Harry Lenart, Robert and Mary Looker, Robert F. Maguire III, and The Hillcrest Foundation through the 1998 Collectors Committee, Stephen Markel in memory of Catherine W. Markel, the Southern Asian Art Council, and S. Sanford and Charlene S. Kornblu
The sculpture depicts a Buddhist tale known as "The Necklace of Thread." It appears that the future Buddha resolved, rather judiciously, the mystery of the necklace's rightful owner by examining its scent. It is one of five beautifully crafted sculptures of Buddhist icons from a region known as Gandhara in the second and third century, today known as Afghanistan and Pakistan. In 326 B.C. Alexander the Great had attempted to add this region to his empire. Though he failed, Hellenistic culture nevertheless filtered its way into the region. The Aristocratic Women is done in the Hellenistic/Roman body-defining style, with very Grecian facial features. The exquisitely carved women's gray schist stone garments, the stola (tunic) and the palla (shawl), of the second-century Roman style, fall gracefully around their bodies, their intricately styled hair delicately curled on their shoulders. Here we witness Western art melding with Eastern sensibilities, and though the details don't surrender all their secrets, one is nonetheless held in awe.
All the other sculptures in the gallery are straightforward and deeply sacred images of Buddhism: a Buddha, Sakyamuni (the enlightened one) and three Bodhisattvas (saviors of compassion) that would have traveled the various trade routes of the Silk Road through the Hindu Kush to and from China. But who was the intended audience for The Aristocratic Women? Buddhists, being about karma and nonviolence, or Romans, who were notoriously, resolutely proud adventurers? Was it for a Buddhist who appreciated things Roman, or a Roman who was a Buddhist? A sort of paradox, wouldn't you say? Long hours on duty of wondering can leave you with questions like this. Even in a great museum, a time machine, many things remain unsettled.