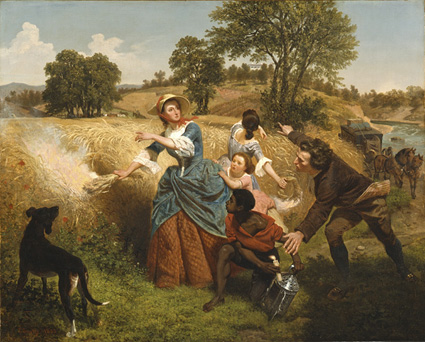 Emanuel Gottlieb Leutze, Mrs. Schuyler Burning Her Wheat Fields on the Approach of the British, 1852, Bicentennial gift of Mr. and Mrs. J. M. Schaaf, Mr. and Mrs. William D. Witherspoon, Mr. and Mrs. Charles C. Shoemaker, and Jo Ann and Julian Ganz, Jr.
Happy Independence Day, fellow patriots. You've likely got fireworks on your mind for Sunday night, but what about the rest of the weekend? This being one of the quintessential summer weekends, you'd be remiss not to get out of the house and have a little fun. Maybe take in an exhibition? Maybe a concert? We can help on both fronts.
As with every weekend this summer, we've got free concerts every night: the Rickey Woodard Sextet performs tonight at 6 pm; tomorrow sees the Mandinga Afro-Peruvian Ensemble at 5 pm; and Sunday in the Bing Theater you can catch the trio of Bryan Pezzone, Douglas Masek, and James Smith performing the music of Gershwin, Porter, and others. That concert starts at 6 pm—well before sunset, so you've got plenty of time to make your 4th of July festivities afterward.
One more reason to come to LACMA on the Fourth: for the very last time this summer—we swear!—the Resnick Pavilion will be open all day on the 4th of July. The Walter De Maria sculpture will be de-installed in July, so this really is your last chance to see the artwork and the Resnick Pavilion in its current state. Next time we invite you in, it will be October.
Artwise, John Baldessari: Pure Beauty and The Fruit of LACMA have both been open for a week now. If you haven't seen them yet, do drop by. While you're inside BCAM for Pure Beauty, don't forget to head upstairs to see Joseph Beuys: The Multiples—this is your last weekend to see it. Also coming down after this weekend is a small installation in the Ahmanson Building, Houra Yaghoubi Prints. Yaghoubi is a contemporary artist from Iran, and this collection of prints draws on that region's history as well as contemporary Iranian society.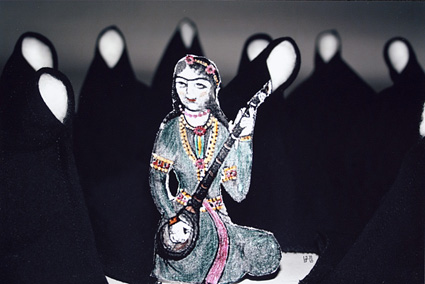 Houra Yaghoubi, "Who is my generation," 2005, gift of the Art of the Middle East Council, Iran Trip 2009, with additional funds provided by the Farhang Foundation
Finally… many of you have Monday off—don't forget the museum is open. If you've got a houseful of kids in want of something to do, or if you're going stir crazy after too many days off, or if you're looking for a quiet way to forget whatever it is you did under the fireworks, the museum is here for you.