While introducing his students to Lazlo Moholy-Nagy through a 1936 essay called "Photography: a New Instrument of Vision," artist Patterson Beckwith became personally interested in a section titled "The Eight Varieties of Photographic Vision." It is a very simple list that describes what is possible to do with the medium—photograms, reportage, snapshots, timed exposures, infrared photography, x-rays, transparent superimposition, and optical illusions.
"Bananas for Moholy-Nagy" is a photo illustration Beckwith produced using all the methods on the list with a single banana for each image. In 2009 LACMA acquired the series of photographs and created a small publication of the project, available in the Art Catalogues store in the Ahmanson Building.
Why a banana? Beckwith explains: "The bananas are slightly harder to explain. The work is not 'about' bananas, really, they are a vehicle—you can slip on them, ladies can't eat them in the street because they are a phallic symbol; the Warhol and other Pop banana art aspect was a plus too. Personally I always love talking on a banana phone. I think art should be funny, and I think bananas are funny."
From start to finish the entire project took less than three weeks. "Each image was a technical challenge; I had the time of my photo-nerd life, using infrared and litho films, learning how to tone prints… I had the most fun making was the Harold Edgerton style high-speed image—capturing a 1/30,000th of a second of the fruit exploding using a firecracker." Both images are currently on view in EATLACMA.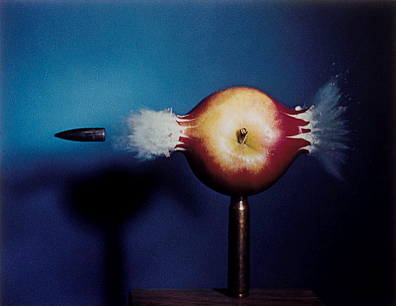 Harold Edgerton, .30 Bullet Piercing an Apple, 1964, printed 1985, gift of the Harold and Esther Edgerton Family Foundation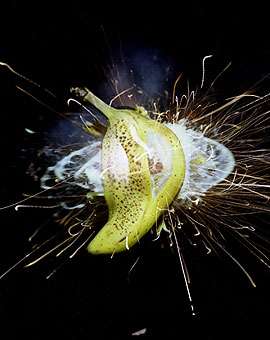 Patterson Beckwith, Untitled (Rapid seeing by means of the fixation of movements in the shortest possible time: snapshots), 2006, Ralph M. Parsons Fund, © Patterson Beckwith
Meghan Moran