Installation view, Eye for the Sensual: Selections from the Resnick Collection, the Lynda and Stewart Resnick Exhibition Pavilion. Photo: 2010 Museum Associates/LACMA
For all the beautiful sculptures that are present in Eye for the Sensual—closing January 3—only two represent the crossroad of science and art. In the midst of a long tradition of idealization of Greek and Roman mythology, the vestigial longings of a class, there arose a science that documented the conquered and colonized people; and hence ethnography and anthropology or, euphemistically, the science of the "Other." In an effort to gain a commission from the Ethnographic Gallery of the Museum d' Histoire Naturelle in Paris, Charles Cordier submitted the bust of Said Abdallah from the tribe Mayac of Darfour, which was successfully shown in the salon.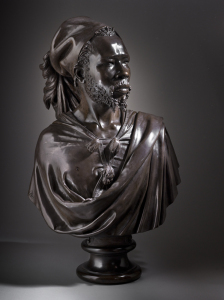 Charles Cordier, Said Abdallah from the Tribe of Mayac in the Realm of Darfour, 1848, bronze, collection of Lynda and Stewart Resnick
After the success of a strong proud male, three years later he fashioned the remarkably ravishing African Venus, bestowing the bronze's soft, slightly warm brownish tones, the verisimilitude of her real skin. Her partially open mouth, as if caught before speech, perpetuates her animation in this hard metal.
The pair was shown in the Great Exhibition in London in 1851 (three years after slavery was abolished in France). Queen Victoria purchased the bronzes and eight pairs were cast. They were very popular and copied in many sizes. And though we, today, acknowledge her beauty as exemplary, by nineteenth-century aesthetic standards she was still an alien creature and not unlike the other much exaggerated African Venus, Hottentot, being a physical curiosity and an erotic curiosity. It was a time when sculpture was still based on the neo-classical legacy of whiteness. But that being said, Charles Cordier, later considered to be a key Orientalist, wittingly or unwittingly brings such artistry, honesty, and fidelity—one might even say affection—to the African Venus that no more beautiful sculpture of a black woman has ever been made, that I've seen. The late Hugh Honour, in his master work The Image of Black in Western Art, would quote Cordier late in his career as saying "I was putting a new value into sculpture and creating the study of races, widening the scope of beauty by finding it everywhere." Hylan Booker