Today we have two announcements, both pertaining to Fashioning Fashion: European Dress in Detail, 1700-1915. First—the show has been extended! It will now remain open in the Resnick Pavilion through March 27.
Second, we just posted an exciting new resource for costumers: patterns that may be used to approximate the design of these garments from our collection.
Thomas John Bernard and curatorial assistant Clarissa Esguerra at work pulling patterns from an 18th century waistcoat.
We talked with Thomas John Bernard, a theatrical costume designer and professor at Cal Poly San Luis Obispo, who worked with the exhibition curators to create the patterns.
What was it like to work with these garments?
It was exciting because a lot of them are very unique and they are in amazing condition for their age.
When you look at the insides of these pieces, you discover things you don't really expect. You get to do detective work forensics to try to figure out what the garment was like, how it was made and perhaps remade.
When you are a costume designer, you read plays set at different times in history, and you make clothes for people to represent the time and place. I do a lot of patternmaking for Utah Shakespeare Festival and other theatres around the country; knowing how historical garments were made during the period helps me be a better craftsperson.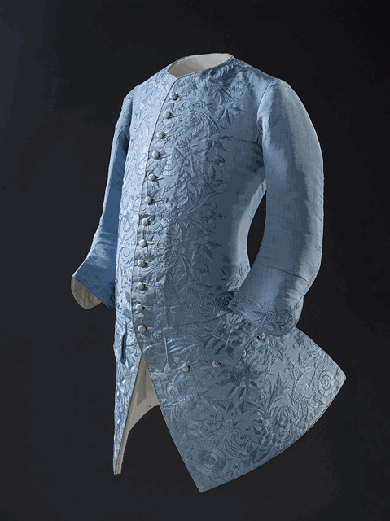 Man's Waistcoat, China for the Western market, c. 1740 Purchased with funds provided by Suzanne A. Saperstein and Michael and Ellen Michelson, with additional funding from the Costume Council, the Edgerton Foundation, Gail and Gerald Oppenheimer, Maureen H. Shapiro, Grace Tsao, and Lenore and Richard Wayne M.2007.211.811, photo © 2010 Museum Associates/LACMA
Can someone actually make a garment he or she could wear using one of these patterns?
These are pieces of art. These historic garments most likely would not fit a person today. These patterns are an historical representation. As a patternmaker, I can take measurements from people today and make the pattern fit by drafting it up using the same lines taken from the original piece. To make a garment that fits based on one of these patterns, you need to know something about patternmaking, and be able to modify the size of the garment in that way.
What did you learn about how the original garments were constructed?
A lot of the clothes were all sewn by hand. The stitches are smaller than what a sewing machine would make today; you can see the incredibly small, beautiful stitches made by expert tailors. When we did a pattern of a boy's frock we discovered it may have been made by a talented home seamstress; the pieces did not line up exactly, and sometimes the fabric is slightly off-grain. So you look at the pattern, and it's not exactly square. But we wanted to have an actual historical representation of that piece, so we left it that way and didn't fix it as I would if I were going to actually sew the garment. If I were going to make the garment I would square the elements so that they hang better.
A famous designer would not take one of these patterns and try to make it in exactly the same way the original garment was created. They would take the original garment as inspiration, and construct something using present-day techniques.
I think patternmaking is a combination of sculpture and engineering. One has to work on the body, but the garment also has to look beautiful and flow around the body. Every human body is different; making each person look his or her best is a challenge that involves many decisions about how a garment is cut and constructed.
Amy Heibel