We've got a busy weekend at LACMA, starting with two new exhibitions. Human Nature: Contemporary Art from the Collection gathers roughly seventy-five works from our permanent collection, including many recent acquisitions which have never been on view at LACMA before. We are excited to see these objects by Glenn Ligon, Nam June Paik, Gerhard Richter, Haegue Yang, Mark Bradford, and many others fill the second floor of BCAM. This exhibition opens to the public on Sunday but is open now if you're a member.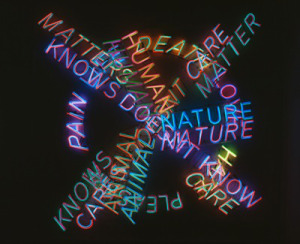 Bruce Nauman, Human Nature/Life Death/Knows Doesn't Know, 1983, Modern and Contemporary Art Council Fund
Also on view, in the Ahmanson Building, is Vija Celmins: Television and Disaster 1964–1966. This is the first exhibition to focus on a specific slice of Celmins' work—paintings from a two-year period early in her career which reflect televised images of war. This show also opens on Sunday, and on Saturday for members.
Tonight our Catherine Deneuve film series continues with two classic films she made with the wonderful director Jacques Demy. The first is the heartbreaking musical masterpiece The Umbrellas of Cherbourg. Incidentally this is one of my favorite films of all time, so if you've never seen it on the big screen, do yourself a favor and see it. Deneuve is radiant as a shopgirl who lets her true love slip away, while Demy's colorful sets and Michel Legrand's score turn the film into candy for the eyes and ears. This is followed by another Deneuve/Demy pairing (they partnered four times altogether), Donkey Skin—a strange and wondrous film based on a fairy tale by Charles Perrault (who also created Mother Goose and wrote Cinderella, Sleeping Beauty, and Little Red Riding Hood).
The Deneuve series concludes on Saturday night with Francois Truffaut's excellent film The Last Metro, staring Deneuve as an actress working in occupied Paris while her Jewish husband, the director, hides from the Nazis, unable to keep his wife from falling in love with her leading man.
Also on Saturday we're glad to have Philip Glass return to LACMA for an afternoon concert and conversation, including excerpt performances from his opera, Akhnaten (unfortunately sold out, sorry).
All day Sunday you can come to LACMA to celebrate the Persian New Year with a full slate of activities happening all over campus, including live music, film, dance performances, and more. You can see the full schedule here. While you're on campus head up to the fourth floor of the Ahmanson Building to see Elizabeth Taylor in Iran, or check out our newly reinstalled ancient Near East collection in the Hammer Building.
If you're on campus on Sunday to take in the new contemporary shows, be sure to stop in to the Art Catalogues bookstore at 4 pm to see former director of the Chinati Foundation, Marianne Stockebrand in conversation with Robert Irwin about the new book Chinati: The Vision of Donald Judd and Irwin's plans for an upcoming Chinati installation.
Sunday evening be sure to head to the Bing Theater to see the UCLA Philharmonia perform selections by Bartók for our free Sundays Live series.
Scott Tennent