We've spent most of this week giving Fashioning Fashion a much-deserved send-off; Sunday is your last chance to see the show! Also closing on Sunday is the installation in the Ahmanson Building, George Grosz, Social Critic, a collection of drawings by the self-described "most depressed man in Europe."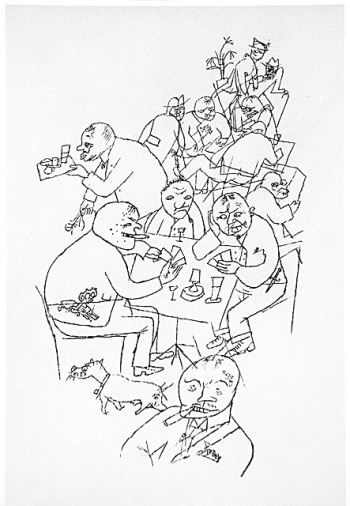 George Grosz, Coffee House, 1915–1916, the Robert Gore Rifkind Center for German Expressionist Studies
Our weekend film series Classics from La Semaine de la critique (Critics' Week) concludes tonight with Barbet Schroeder's 1969 paean to hedonism, More (featuring a psychedelic soundtrack by Pink Floyd!). This is followed by Trash, the second film in a trilogy by Paul Morrissey, who was part of Andy Warhol's Factory scene.  
Tomorrow night LACMA is screening a collection of shorts by abstract filmmaker Jordan Belson, "His is a cinematic vision encompassing nothing less than the metaphysical as well as physical universe," says the LA Weekly in a write-up of the screening.  
This Sunday's free Andell Family Day gives kids and parents the chance to make art inspired by our European galleries.  
Later in the evening on Sunday, pianist Joel Fan performs works by Nazaret, Villa-Lobos, and Beethoven for our free Sundays Live series in the Bing Theater.  
Scott Tennent