Last week LACMA became the recipient of a gift that has blown my mind—Korean cosmetics company AMOREPACIFIC has given the museum $1 million to be used toward acquisitions of contemporary art over the next five years.
As a native-Californian Korean-American curator who has perpetually looked toward works by international artists to contribute to global points of entry and contact in contemporary art, this is especially heartening. Of course contemporary Korean artists—whether those featured in Venice or Gwangju or others living and working around the world in a variety of capacities—have been creating vital, rich, and strong works for the past couple of decades (and longer). This is something, I'm happy to note, that LACMA has already demonstrated with the recent exhibition Your Bright Future: 12 Contemporary Artists from Korea, as well as a number of acquisitions of Korean contemporary art already in the collection.  
Franklin Sirmans and I just installed LACMA's first contemporary permanent collection installation in six years, Human Nature, on the 2nd floor of BCAM. It seems people have been blogging about the abundance of great work by Korean artists installed throughout the exhibition.
What a treat to hang Nikki Lee's Hip Hop Project and Hispanic Project (2001) alongside Yinka Shonibare's Diary of a Victorian Dandy (1998) and across from Lorna Simpson's 1957–2009 Interior #3 (2009), which is the first series of the artist's impressive oeuvre since the early 1980s in which she herself appears. All three and others in the gallery, including L.A. artists Kori Newkirk and Rodney McMillian, are types of self-portraits in which the artist inserts themselves as a strategy around perception and portraiture (with Robert Mapplethorpe's self-portrait from 1980 holding the sightline throne).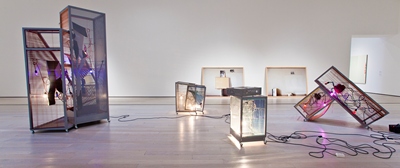 Haegue Yang, Doubles and Couples, 2008, purchased in honor of Lynn Zelevansky with funds provided by The Broad Art Foundation, Hyon Chough, the Korea Arts Foundation of America (KAFA), Wonmi and Kihong Kwon, The Hillcrest Foundation, Tony and Gail Ganz, Terri and Michael Smooke, Judy and Stuart Spence, Steven Neu, and other donors through the 2009 Collectors Committee
Recently, the museum acquired Haegue Yang's Doubles and Couples (2008) featured in the Turin Triennale in 2009. Having represented Korea at the last Venice Biennale and having just had exhibitions at the New Museum in New York, the Walker Art Center, and REDCAT in Los Angeles, this Korean artist living and working in Germany is truly a global provocateur and genius whose practice spans the examination of history and philosophy alongside personal narrative. This monumental piece occupies the largest gallery space in the exhibition.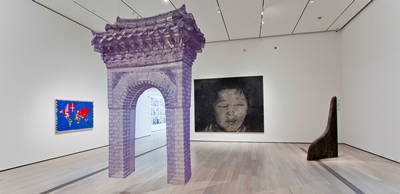 Do Ho Suh, Gate, 2005,purchased with funds provided by Carla and Fred Sands through the 2006 Collectors Committee
Last but not least, it was a thrill to install a signature Korean gate installation by one of my all-time favorite artists and dear friend Do Ho Suh. The gate, a replica from his family home in Seoul—but made of silk—is installed in a gallery with a great international and sculptural emphasis including works by Aligiero Boetti, Mauricio Cattalan, Martin Puryear, and Zhang Huan. Do Ho has had a long relationship with LACMA, which I hope will continue for many years to come.
AMOREPACIFIC's gift presents great opportunity for us to build on this foundation and continue the dialogue between contemporary Korean artists not only with the rest of the global contemporary art world but also with Korea's own cultural history, as told through our comprehensive permanent collection of Korean art stretching back to ancient times. Lots of thoughts, lots of excitement, lots of potential… just sharing the exciting news has my mind ticking, clicking, and churning away!
Christine Y. Kim, Associate Curator, Contemporary Art