This Saturday during Late Night at LACMA we are presenting a staged reading of The Inquisitive Musician, a project by artist Cindy Bernard and featuring a cast that includes writer Dick Hebdige, composer Gregory Lenczycki, artists and musicians Dave Muller, Ami Tallman and Marnie Weber, artist and activist Haruko Tanaka, experimental bagpiper David Watson, dean of the School of Art at CalArts Thomas Lawson, musicians Tom Watson and William Roper and punk icon Mike Watt. We asked Cindy to tell us a bit more about the project and to put the play's subject-matter in context of contemporary issues facing musicians today.
The Inquisitive Musician is an adaptation of a seventeenth-century German satire attributed to Johann Kuhnau, Musicus Curiosus, or Battalus, the Inquisitive Musician; the Struggle for Precedence between the Kunst Pfeifer and the Common Players. The satire pits itinerant "beer fiddlers" against the official city sanctioned "Kunstpfeifer" (or "art piper") in an argument over who is the better musician and has the right to perform and be fairly compensated—those who play tunes by ear and memory or the "Kunstpfeifer" who relies on printed music. The play is written from the position of Kuhnau (1660–1722), who was Bach's predecessor as the cantor of the Church of St. Thomas in Leipzig, and arises out of the challenge of an economically strained populace to compensate musicians for their labor—a familiar story which continues to this day.
My set of links—an Inquisitive Musician Top Ten—is inspired by these age old conflicts.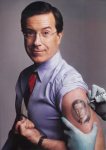 Steven Colbert's Sellout Off
Steven Colbert judges which alternative rock group deserves his Grammy vote by determining who most successfully "whored" their music, the Black Keys or Vampire Weekend. As Colbert puts it, "It used to be easy to figure out the best album of the year—it was the one that sold the most....These days nobody pays for music anymore, it's gone the way of pornography....So the only way to determine which alternative band has the most edgy non-commercial appeal is which one got their songs in more commercials." (Starts at about 3:30 in).
Led Zepplin is missing out...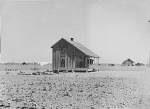 The Problem With Music
The days of the "big break" major label recording deal are probably over, but musician, audio engineer, and journalist Steve Albini's 1993 laying out of the numbers remains one of the clearest articles on the, uh, trench, that is the big label contract. Courtney Love had one word for it: sharecropping.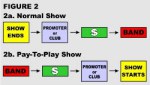 The Sunset Strip and Pay to Play
It's sad that Los Angeles, home to a great tradition of clubs such as the Whisky A Go-Go, the Troubadour, and the Roxy is also the birthplace of one of the most pernicious practices in music—pay to play, a system where bands are asked to front the money to finance their own club gigs. Sunset Strip clubs are infamous for this, sometimes asking bands to pre-sell hundreds of dollars tickets in order to play for half an hour on a multi-band bill. A recent article in the LA Weekly generated a lively "axis of sucks" in the comments, which also seemed to point to tensions between east side and west side clubs.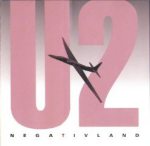 The Story of the Letter U and the Numeral 2
Sampling continues to be a battleground where musicians (and their labels) come into conflict, but many of the most well-known cases emerged in the early '90s.  In 1991, prompted by acquiring tapes of popular DJ Casey Kasem criticizing the band U2, the experimental music collective Negativland included thirty-five seconds of U2's "I Still Haven't Found What I'm Looking For" performed on kazoo as a part of a sound collage released on SST. Chaos ensued.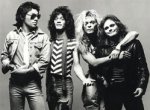 Van Halen and the Myth of the Brown M&Ms
A widely cited example of musicians run amok is Van Halen's demand that all brown M&Ms be removed from the candy bowl requested for every gig in their contract rider. But in fact it was a very savvy business move—if the brown M&Ms were in the bowl, it was a sign that the promoter hadn't read the contract rider and it was time to "line check the entire production." Another strategy? Iggy Pop's roadie just made the rider a hilarious read.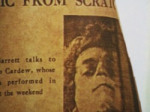 The Rise and Demise of the Scratch Orchestra
Who knew that a collective lasting less than six years and a long dead composer would suddenly become so hot? The recent upsurge in artist collectives and experimental sound has spurred renewed interest in Cornelius Cardew, the Scratch Orchestra, and the tensions that eventually ripped the orchestra apart. The Scratch Orchestra was an experimental musical collective founded in 1968 by Cardew, Howard Skempton, and Michael Parsons, whose ranks swelled to over fifty people in its brief existence. It was defined in its founding constitution as "A large number of enthusiasts pooling their resources (not primarily material resources) and assembling for action (music making, performance, edification)." Anyone could join, graphic and text-based scores were used (rather than traditional sheet music), and there was an emphasis on indeterminate composition. It was a fluid community of students, office workers, amateur musicians, and some professional composers. The Orchestra dissolved in 1974 due to the strains of Cardew's "reverse seniority" (whereby the most junior members in age would receive the first opportunities to direct the Orchestra), tensions between musically trained and non-musically trained members, and Cardew's increasing interest in radical politics. Cardew was killed by a hit-and-run driver in 1981.
The numerous recent Cardew / Scratch Orchestra related events include Play for Today, Cornelius Cardew and the Freedom of Listening, Agape, From Scratch, The Cardew Object, a reenactment, and of course Luke Fowler's  Pilgrimage from Scattered Points, which I premiered in Los Angeles as a part of a SASSAS Scratch Orchestra event in 2010 and am screening again as a part of Late Night at LACMA.
In order to comply with truth in advertising, at what point will 'Symphony Orchestra' need to be removed from the name of the institution? —Brian Ventura, Assistant Principal Oboe, Detroit Symphony Orchestra, on the DSO Facebook page 3/28/11
Tough financial times are wreaking havoc on symphony orchestras. In Detroit financial stresses resulted in failed contract negotiations and a contentious six-month strike by the members of Detroit Symphony Orchestra. At issue were salary cuts of 33% for existing players, 42% for new players, the elimination of tenure, and a redefining of job requirements. The strike was unusually contentious, with the Detroit Free Press comparing the loss of a world-class orchestra to the loss of world-class sports franchise, while other newspapers claimed  the orchestra was one of the "remnants of an era when the city was awash in automotive cash...The reality may be that this region can no longer support a world-class orchestra."
Both the Detroit Symphony Orchestra and the Detroit Symphony Orchestra Musicians took the dispute to their respective Facebook pages. Particularly controversial was the assertion that the DSO Board wanted to replace the current world-class musicians with less experienced and qualified players, or as some put it, "Detroit's unwashed masses can no longer discern the difference between a great orchestra and a mediocre one, in much the same way that Detroit car makers once snorted at suggestions U.S. consumers would notice a modest slippage in vehicle quality." The strike was settled in April 2011.
This Ain't no Picnic
Class conflict in two minutes by my hometown band, the Minutemen (featuring Ronald Reagan, actor).
Last but not Least
Much of the cast of The Inquisitive Musician is populated by artists and musicians who are engaged with the struggle represented in the play—here's what a few have been up to lately: Mike Watt and Tom Watson just completed fifty-two shows in fifty-one days, all recounted in Mike's tour diaries; Tom Lawson is working  on Branches of Liberty, based on Scottish terrorist revolutionary Thomas Muir, and is editor in chief of East of Borneo, an online journal investigating the art of Los Angeles, past and present; William Roper is getting together a concert of his "Bavarian" compositions; David Watson recently performed in the Anarchist Festival; and Dick Hebdige has just published an essay entitled "Lucifer Setting: Art, Engineering and the 'dawn' of the Stadium Rock Light Show" in Bullet-Proof I Wish I Was: The Lighting Design of Andi Watson.