This weekend we are opening our fourth exhibition in a month—Gifts of the Sultan: The Arts of Giving at the Islamic Courts, which presents 200 works associated with the Islamic courts from Spain to India, from the eighth to the nineteenth centuries.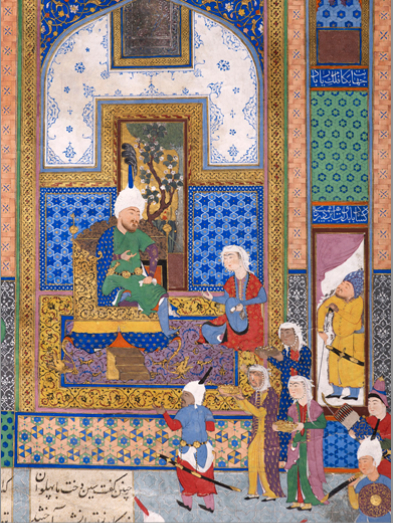 Sindukht Comes to Sam Bearing Gifts, Folio from the Shahnama of Shah Tahmasp, Iran, Tabriz, 1525–35, 18 3/8 x 12 3/8 in. Aga Khan Museum Collection, Geneva (AKM00496) Photo © Aga Khan Trust for Culture, Geneva.
And of course Tim Burton, which opened last weekend, is still the talk of the town. In conjunction with the exhibition our Burton film series continues this weekend with two double features. Tonight, Beetlejuice and Corpse Bride. For Beetlejuice, none other than Catherine O'Hara will be here in person, as well as production designer Bo Welch. Tomorrow night, Mars Attacks! is followed by Pee Wee's Big Adventure, which also includes a screening of Burton's 1984 animated short Frankenweenie.
On both Saturday and Sunday afternoon you can learn how to create a Zen painting using traditional Japanese materials and techniques. While you're here, check out The Sound of One Hand: Paintings and Calligraphy by Zen Master Hakuin in the Pavilion for Japanese Art.
Hakuin Ekaku, Japan, 1685 1769, Daruma, 18th century, Hanging scroll; ink on paper, Image: 44 1/2 x 19 3/4 in. (113.03 x 50.17 cm); Mount: 77 3/4 x 25 in. (197.49 x 63.5 cm), Gift of Murray Smith. M.91.220.
We've also got a free concert happening every day this weekend (as we do all summer long): tonight, Greg Reitan takes the stage for Jazz at LACMA; tomorrow, Brazilian guitarist/vocalist Téka performs for Latin Sounds; and on Sunday pianist Mark Robson performs works by Liszt in honor of the composer's 200th birthday.
Scott Tennent