The three-story elevator shaft of BCAM showcases a piece that LACMA commissioned from artist Barbara Kruger in 2008. However, the extremely large-scale digital print wall installation, some 94 feet high, was not technically part of LACMA's collection—until today, thanks to a gift from LACMA trustee Carole Bayer Sager. This is one of two major Kruger acquisitions being announced today: just down Wilshire Boulevard, the Hammer Museum also announced the acquisition of Kruger's video installation The Globe Shrinks (2010). You can also read a report on the acquisition in today's Los Angeles Times.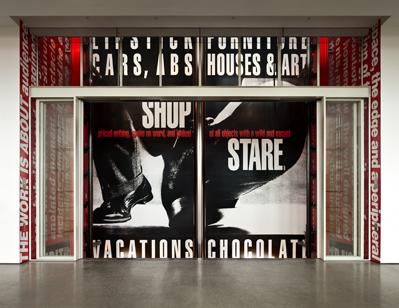 Barbara Kruger, Untitled (Shafted), 2008, gift of Carole Bayer Sager, commissioned by the Los Angeles County Museum of Art for the opening of the Broad Contemporary Art Museum. Photograph © Fredrik Nilsen
Untitled (Shafted) is already well-known to LACMA visitors who are visually bombarded with Kruger's messages while waiting to take the elevator up or down.  Using a litany of common products—"MOISTURIZERS, COMPUTERS, SNEAKERS, SUNGLASSES, HAND BAGS, SWEATERS"—these words are bisected by the phrase "PLENTY SHOULD BE ENOUGH—RIGHT?", illustrating Kruger's use of advertising text and sensational phrasing that critique consumerism, misogyny, power, and desire.
Conceptual artist Kruger began her career as a graphic designer, formalizing her practice as an artist by the late 1960s after studying for a year at Parsons, where photographer Diane Arbus was one of her teachers. Arbus introduced Kruger to the world of commercial and fashion photography. Kruger's appropriated imagery coupled with powerful language and bold typography, motifs that have become her signature, is drawn from graphic design vocabulary.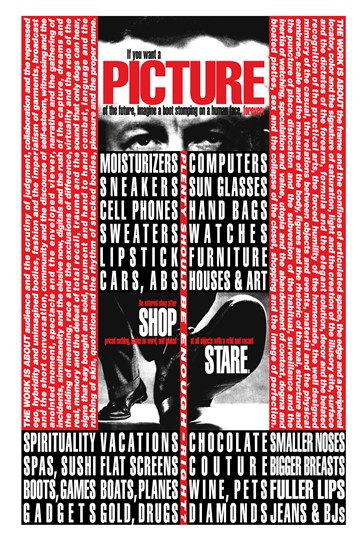 Barbara Kruger, Untitled (Shafted), 2008, gift of Carole Bayer Sager, commissioned by the Los Angeles County Museum of Art for the opening of the Broad Contemporary Art Museum
Untitled (Shafted) debuted at the same time that BCAM opened to the public in 2008, and the artwork has become an indelible part of that building. For that reason LACMA is especially grateful to trustee Carole Bayer Sager for acquiring this work for our collection. Sager explained to me, "For someone who has spent most of my life thus far loving music and art, Barbara's art reaches me emotionally on all levels. She is a great artist.  Her use of graphics, words, text, and color draw me right in.  It is my honor to give her monumental artwork a permanent home at LACMA—I couldn't imagine BCAM without Shafted."
LACMA already has some works by Kruger in its collection and is delighted to add this monumental work to its holdings. Kruger herself told us earlier this week "I'm so pleased to have been invited to do a work at BCAM and doubly pleased that it's now part of the collection at LACMA. That the work has become so visually integral to the building is tremendously gratifying to me."
Miranda Carroll