As a college student traveling in Europe during the summer of 1972, I attended my first documenta, the international contemporary art exhibition organized approximately every five years in Kassel, Germany. That year it was organized by the Swiss curator Harold Szeemann. I was slightly overwhelmed by this sprawling exhibition occurring throughout several buildings and gardens in a small town in the middle of Germany about an hour south of Hannover. The exhibition was filled with some remarkable installations—including impressive works by Paul Thek, Mario Merz, and Panamarenko.  Among the works that still remain with me today is Edward Kienholz's tableau, Five Car Stud.  It was something that I found quite by accident as it was in a separate structure, a kind of supersize tent behind the Fridericianum Museum.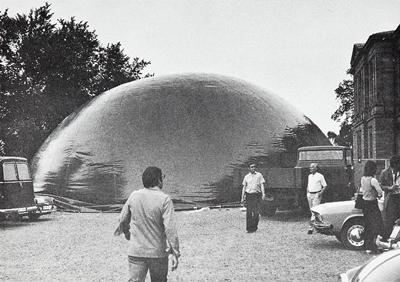 Five Car Stud displayed inside an inflated dome at documenta 5, Kassel, Germany, 1972; photo © Delmore E. Scott
Entering the cavernous, dark space, sinking into the loamy dirt that covered the floor, I was drawn to the horribleness of the scene before me which was illuminated only by the headlights of the five vehicles assembled around the figure of a black man on the ground being attacked by a group of white men. I immediately felt uncomfortable. As an American who had grown up with the civil rights movement, who had acquaintances who had gone on the Freedom Ride in 1961, who had marched in Washington in 1963, seeing this scene was a painful reminder of how conditions had been in the United States.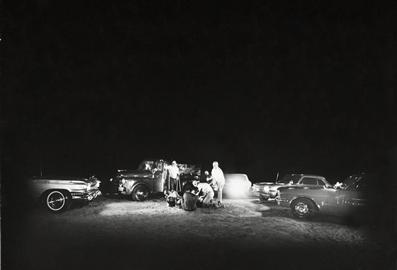 Edward Kienholz, Five Car Stud, 1969–72. Copyright Kienholz. Collection of Kawamura Memorial Museum of Art, Sakura, Japan. Courtesy of L.A. Louver, Venice, CA and The Pace Gallery, New York
The work left a very strong impression on me. A few years ago I was visiting Hope, Idaho, and had the chance to see the piece while Nancy Reddin Kienholz and her team were restoring it. Even seeing it under work lights and in a much smaller space, the piece continued to haunt me. The chance to present Five Car Stud in 2011 to the Los Angeles public—it opens this Sunday—and to introduce this major tableau which has remained unseen for close to forty years is something I never could have imagined when I first saw the piece during the summer of 1972.
Stephanie Barron, Senior Curator, Modern Art