One of the world's most celebrated and recognized artists, Claude Monet created a body of breathtakingly beautiful and conceptually sophisticated work that has been full heartedly embraced all over the world.  I never imagined I would have the opportunity to install a Monet, let alone five of Monet's Rouen Cathedrals, for the exhibition Monet/Lichtenstein: Rouen Cathedrals. Working on this project allowed me to reflect on the memories I had of Monet's Rouen Cathedrals and how much these experiences shaped my understanding of modernism.  I can still picture the moment when I entered the gallery at the Musée d'Orsay where several of Monet's cathedrals hung side by side along one wall; their ability to be both unique and serial at the same time was totally mind blowing.  Afterward, I traveled to Rouen—an hour's train ride from Paris—where I saw firsthand the cathedral that inspired this series of paintings.
Claude Monet, Rouen Cathedral, the portal. Morning Sun, Blue Harmony, 1893, Musee d'Orsay, Paris, France (Inv. RF2000). Photo courtesy of Réunion des Musées Nationaux by Thierry Le Mage/Art Resource, NY.
Due to my experience at the Musée d'Orsay, installing these works was an incredibly surreal experience, made only more so because this exhibition also reveals the distinctive role the Southern California art scene has played in modernism.  In 1968, John Coplans, former director of the Pasadena Museum of Art (now the Norton Simon Museum of Art) and a vocal advocate for Los Angeles art, organized the landmark exhibition Serial Imagery.  During a meeting with Coplans to discuss the planning of the exhibition, young pop artist Roy Lichtenstein saw photographs of Monet's cathedrals, inspiring him to use those images for his own series of paintings and prints (the largest set of these paintings, owned by the Eli and Edythe L. Broad Collection, is on view in the exhibition).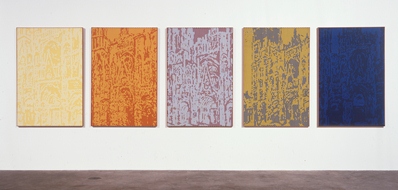 Roy Lichtenstein, Rouen Cathedral (Seen at Five Different Times of Day), Set III, 1968–69. The Eli and Edythe L. Broad Collection. © Estate of Roy Lichtenstein. Photo courtesy of the Eli and Edythe L. Broad Collection by Douglas M. Parker Studio.
With Pacific Standard Time opening this past weekend, I find this connection particularly poignant and timely.  Bringing together these chronologically disparate artists reminds us of the importance of exhibitions in shaping contemporary art production and the strong connection between works of art and their preceding movements, which is one of the most important functions of an encyclopedic museum such as LACMA.
Lauren Bergman, Curatorial Assistant, Modern Art