I was first introduced to Glenn Ligon's work last year when LACMA acquired one of his recent neon reliefs—Rückenfigur (2009). I instantly felt a connection to the work that spelled out "America," in what felt to me bright, optimistic neon letters (that optimism undercut by the fact that the letters are turned away from from the viewer). Ligon's work resonated more deeply though when placed in context of his retrospective currently on view at the museum.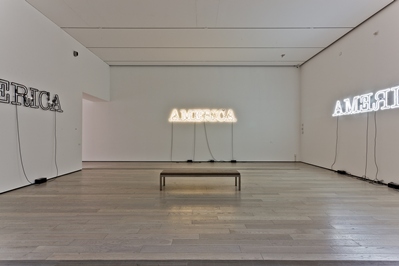 Installation view, Glenn Ligon: AMERICA, Los Angeles County Museum of Art, © Glenn Ligon, photo © 2011 Museum Associates/LACMA
Whitney Museum curator Scott Rothkopf, who organized the exhibition, noted that Ligon's work "speaks more broadly, not just to African-Americans or gay Americans but to all Americans," hence the title of the show: Glenn Ligon: AMERICA. As a second-generation Korean-American—or American-Korean as I'd rather say—I couldn't agree more. Although I was born and raised in Southern California, I grew up identifying myself as simply "Korean" or "Asian" whether on college applications or a consumer survey trying to bring a new Target store into downtown LA. When asked where I'm from, I usually go through two rounds of answers—(1) my hometown and (2) my parents' hometown. While I've certainly retained a great deal of my ethnic heritage in values and customs, I identify most strongly with the American spirit and voice that has been instilled in me.
Viewing Ligon's retrospective, I feel that he captures and expresses that individual spirit in a distinct but also relatable way. Though complex in background and meaning, many of his works don't necessarily need an explanation for a viewer to grasp his ongoing exploration of American history and culture. As someone also unwilling to be categorized, I find Ligon's work a great expression of the often multi-layered American identity.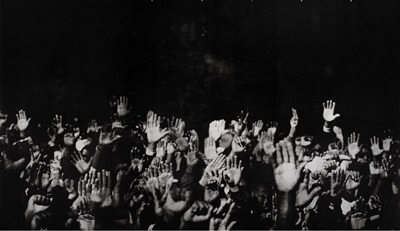 Glenn Ligon, Hands, 1996, collection of Eileen Harris Norton, courtesy of the artist and Regen Projects, Los Angeles, © Glenn Ligon, photograph by Fredrik Nilsen
 Christine Choi, Communications Manager