If you've been in our Korean galleries for much of the last year, you've seen conservators working in the gallery on the restoration of an eighteenth-century masterpiece, Buddha Seokgamoni (Shakyamuni) Preaching to the Assembly on Vulture Peak. The painting was acquired by LACMA in 1998 but has never been on view due to its fragile state. Today, the conservation effort is complete and the painting is now officially on view. On Sunday afternoon, monks from the Kuyangsa Temple in Incheon, South Korea, will perform a ritual involving chanting, music, and dance, in celebration of the painting going on view—a unique (and free) event worth catching. For more about the restoration of the painting, check out this video:
Also opening this weekend is a reinstallation of approximately forty objects from our Chinese collection. The Chinese collection has been off view for quite some time, so we are thrilled to bring them back into a permanent gallery. The initial rotation selects some of the best objects from our collection, including another depiction of Shakyamuni—a large sculpture from the middle Tang dynasty, about 700–800 AD.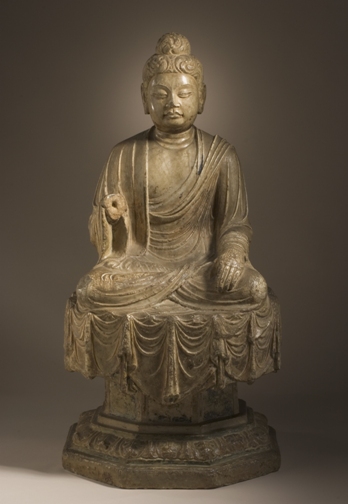 Probably Shakyamuni (Shijiamouni), the Historical Buddha, China, middle Tang dynasty, about 700–800 AD, gift of Ruth Trubner in memory of Henry Trubner and purchased with funds provided by Kelly and Robert Day, H. Tony and Marti Oppenheimer and the Oppenheimer Brothers Foundation, David Bohnett and Tom Gregory, Ric and Suzanne Kayne, Richard Merkin, M.D., Lenore and Richard Wayne, Sharon and Robert Blumenfield, Edgerton Foundation, Myron Laskin, Mary and Robert Looker, Nancy and Dick Riordan, and Mr. and Mrs. Hazelle Hickman
Keeping to the East, make sure to stop into the Pavilion for Japanese Art to see a new installation of The Night Festival of Tsushima Shrine, an Edo-period screen (about 1624–44) that depicts a summer festival at an ancient Shinto shrine near Nagoya.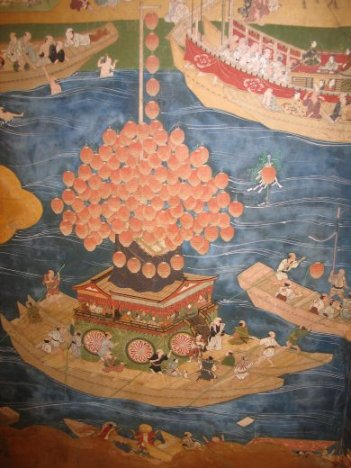 Night Festival of Tsushima Shrine (Detail), Japan, early Edo period, Kan'ei era, 1624–44, Ink, color, gold, and silver and gold leaf on paper, Gift of Camilla Chandler Frost, David and Margaret Barry, Lenore and Richard Wayne, Leslie Prince Salzman, Friends of Heritage Preservation, Gwen and Peter Norton, and the East Asian Art Council, in honor of Robert T. Singer
If you're looking for something more contemporary, or you've got holiday shopping in mind this weekend, come to L.A. Print on Saturday afternoon. The event is a showcase for Los Angeles printmakers, including presentations and artist talks all day (here's the full schedule) and a variety of prints available for purchase—a great idea for the art-collector on your holiday shopping list (or, of course, for your own collection!).
Saturday night, Hindi director Raj Kapoor's 1951 film Awaara (The Vagabond) screens in the Bing Theater. Kapoor also stars as the title character, a down-on-his-luck street urchin who is unaware of his upper-class origins. At the time of its release, Awaara was a worldwide hit and launched Kapoor to superstar heights, not to mention took Bollywood itself to a new level.
Sunday afternoon in Art Catalogues you can hear artists Stephen Prina and Steve Roden their new books as well as broader topics of painting, music, and more. Later in the evening, you can head to the Bing Theater to hear the Santa Barbara Chamber Orchestra perform Bruckner's String Quartet in F Minor and other works.
And, of course, there are also eight special exhibitions on view right now, from Spanish colonial Mexico and Peru to mid-century California to Glenn Ligon's America.
Scott Tennent