La Virgen de Guadalupe is the most significant icon of Mexico and Mexican identity—and she is loved like no other. She embodies two cultures coming together and is called the Queen of the Americas. In 1531, the Virgin Mary appeared to Juan Diego, a recently converted Indian at the hill of Tepeyac, which was the site of the destroyed Aztec temple of the goddess Tonatzin. The Basilica of Guadalupe, which was built on the site of her apparition, is one of four Catholic pilgrimage sites in the world. Take a look at this painting in LACMA's permanent collection by artist Manuel de Arellano. There is a barely legible inscription above the signature—Tocada al original (after the original) which means that the artist based his painting on the original in the Basilica. You can learn more about the painting from an Unframed post curator Ilona Katzew wrote upon the painting's acquisition in 2009; you can also download this image in high resolution from our free image library.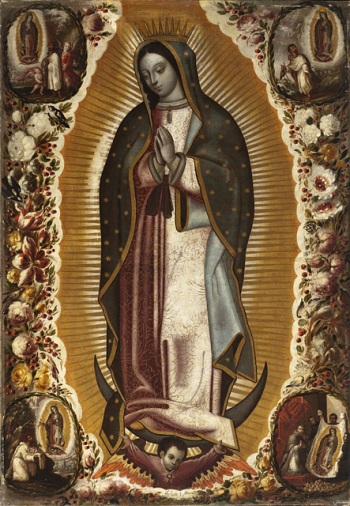 Manuel de Arellano, Virgin of Guadalupe and the Apparitions to Juan Diego, 1691, purchased with funds provided by the Bernard and Edith Lewin Collection of Mexican Art Deaccession Fund
Here is another image of la Virgen from LACMA's collection (also previously written about in detail on Unframed), currently on view in Contested Visions in the Spanish Colonial World.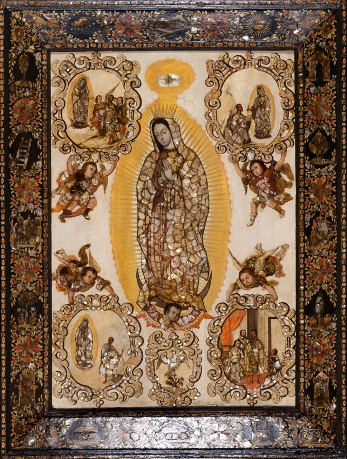 Mexican author Carlos Fuentes says that a Mexican can give up the church, but not la Virgen de Guadalupe. She has inspired unions, soccer teams, politicians, and truckers. Ask anyone who is a Guadalupano/a—whether they are religious or not, they will say that she inspires compassion, love, and a belief that differing cultures can come together. Chicana writer Gloria Anzaldua writes, "She is like my race—a synthesis of the old world and the new, of the religion and culture of the two races in our psyche, the conquerors and the conquered." Food for thought for the next time you see her on a key chain or on someone's arm—maybe it's not just kitsch. Alicia Vogl Saenz, senior education coordinator