Earlier this year fashion designers Kate and Laura Mulleavy, aka Rodarte, debuted their "Fra Angelico Collection" in Florence, and soon after announced that they would giving the entire collection to LACMA as a promised gift. On Saturday, you can see these amazing gowns in a unique installation inside our Italian Renaissance galleries. The collection was inspired by paintings from this period, and the installation (on view through February 5) offers interesting resonances with the surrounding paintings.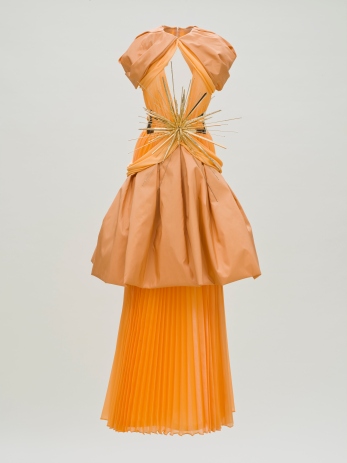 Rodarte, Cantaloupe Pleated Silk, Draped Silk Georgette, and Taffeta Gown with Gold Ray Belt, promised gift of Rodarte (Kate and Laura Mulleavy), Maria Arena Bell, Susan Casden, Eva Chow, DNA Boutique, Allison Sarofan, Karyn Silver, Christine Suppes, Lizzie Tisch, Dasha Zukova, and an anonymous donor
The Rodarte collection joins eight other special exhibitions on view now. If you have family descending upon you this season, LACMA is a great destination for getting out of the house. The beautiful Monet/Lichtenstein: Rouen Cathedrals is on view in BCAM for just a couple more weeks, so now is the times to catch it if you haven't yet.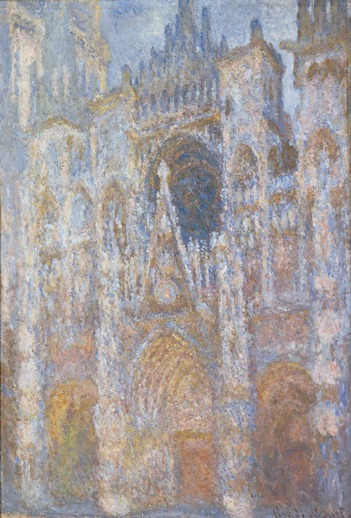 Claude Monet, Rouen Cathedral, the portal. Morning Sun, Blue Harmony, 1893, Musee d'Orsay, Paris, France (Inv. RF2000). Photo courtesy of Réunion des Musées Nationaux by Thierry Le Mage/Art Resource, NY.
More shows' closing dates are approaching in January as well, including Glenn Ligon: AMERICA and Contested Visions in the Spanish Colonial World. The latter was named one of the top ten exhibitions of the year by the Los Angeles Times' Christopher Knight (his lengthier rave review is here, and you can also read a wonderful profile of the exhibition's curator, Ilona Katzew, which graced the front page of last Sunday's Los Angeles Times Arts section).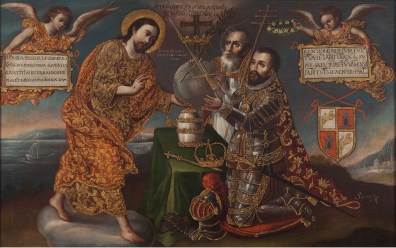 José de la Mota, Allegory of the New World: Christ Delivering the New World to the Holy Roman Emperor Charles V and the Pope, 1721, Galeria Coloniart, Collection of Felipe Siegal, Anna and Andrés Siegel, Mexico City, photo © Jorge Pérez de Lara
If that weren't enough, there are still five other exhibitions on view now, from the sunny California Design to the dark Five Car Stud. Check this overview of exhibitions on view to see what appeals (and don't forget to look into some of the many smaller installations also on view now).
The rest of the year will be fairly quiet on talks, films, and concerts front, but we do have one last free concert before the year ends: cellist Ruslan Biryukov and pianist Armen Guzelimian will perform works by Chopin, Haydn, and Lalo on Sunday night as part of our free Sundays Live chamber music series.
Scott Tennent