After seeing how obsessed both Claude Monet and Roy Lichtenstein were with the Rouen Cathedral in our exhibition Monet/Lichtenstein: Rouen Cathedrals—Monet painting numerous versions at various times of the day and year and Lichtenstein mirroring that repetition with Pop art renderings—I began to wonder if other artists had taken the building as their muse.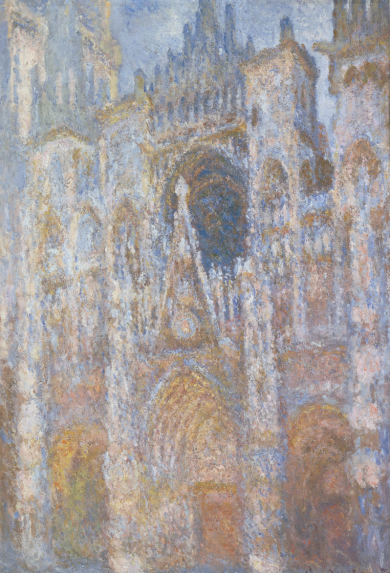 Claude Monet, Rouen Cathedral, the portal. Morning Sun, Blue Harmony, 1893, Musee d'Orsay, Paris, France, photo courtesy Réunion des Musées Nationaux by Thierry Le Mage/Art Resource, NY.
Roy Lichtenstein, Rouen Cathedral (Seen at Five Different Times of Day), Set III, 1968-69, The Eli and Edythe L. Broad Collection, © Estate of Roy Lichtenstein, photo courtesy The Eli and Edythe L. Broad Collection by Douglas M. Parker Studio
Construction of the current structure began in the 12th century, so the potential inspiration has been looming for hundreds of years. Around the same time that Monet painted his set of cathedral paintings, other painters flocked to the city of Rouen. Versions of the cathedral were painted by English Romantic landscape painter and watercolorist Joseph Mallord William Turner in the 1830s. Then, a few years after Monet's works were completed, Camille Pissarro painted the cathedral from a farther distance.
Camille Pissarro, The Roofs of Old Rouen: Grey Weather, 1896, Toledo Museum of Art
The inspiring nature of the cathedral extended past painters. In French writer Gustave Flaubert's work Three Tales, the story The Legend of St Julian Hospitator was motivated by a stained glass window in the Rouen Cathedral depicting a medieval tale. In 1898, French writer Joris-Karl Huysmans wrote the novel La Cathédrale which was based on the Rouen Cathedral and described the building in such great detail that tourists often used it as a guidebook.
Many artists were inspired by Monet's paintings of the cathedral rather than the cathedral itself. Even a Project Runway contestant was taken by Monet's work. When the competition brought them to The Getty in 2009, contestant Gordana Gehlhausen chose The Portal of Rouen Cathedral in Morning Light as the inspiration for a gown. She used silk organza to mimic the brush strokes in the painting and was even told by judge Hiedi Klum that her creation best mirrored her inspiration.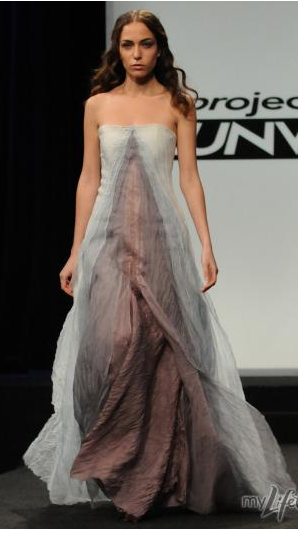 Gordana Gahlhausen, Project Runway
Contemporary photographer Renato Cerisola created serial photographic work based on Monet's canvases. He too focused on the building in various lights and used the exposure of the photographs to mimic Monet's brushstrokes and Impressionist style.
Both the Rouen Cathedral itself and Monet's serial paintings continue to act as a muses today as can be seen by their ever-growing Flickr stream.
Alex Capriotti