There is a lot of exhibition activity happening this weekend, especially in BCAM, where Glenn Ligon: AMERICA ends its run and Ellsworth Kelly: Prints and Paintings begins. The Kelly show gathers 100 examples of Kelly's prints, organized thematically (grids, curves, and contrast), as well as paintings and one sculpture from LACMA's collection. The exhibition is on the second level of BCAM, just across the way from the Glenn Ligon show. In case you missed them, here's a look at some of the blog posts we've done over the course of Glenn Ligon's run:
Glenn Ligon talked to us twice—first in a quick Q&A, then in a splendid video interview
A lot of contributors had unique, personal responses to the exhibition, in particular over issues of identity—see entries from Unframed contributors Christine Choi and Hylan Booker, and from our high school interns, who responded to Ligon's work by making their own art.


Glenn Ligon, Rückenfigur, 2009, Los Angeles County Museum of Art, gift of the 2010 Collectors Committee, © Glenn Ligon, photo © Museum Associates/LACMA
Also closing this weekend is Mural Remix: Sandra de la Loza, one of our Pacific Standard Time exhibitions. De la Loza created a visual "mashup" by creating original works from details of East L.A. murals painted in the 1970s. Previously on Unframed, curator Chon Noriega interviewed de la Loza about the exhibition. (FYI, Saturday's "Mural Remix Tour," which includes stops at LACMA, the Fowler Museum, and the site of artist Willie Herrón's newest mural, is sold out.)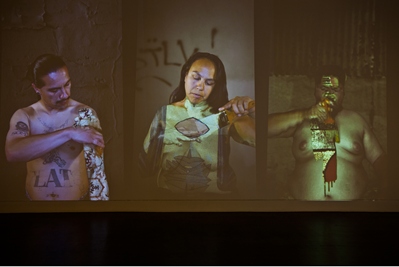 Sandra de la Loza and Joseph Santarromana, Action Portraits (installation view), 2011, © Sandra de la Loza, photo © Museum Associates/LACMA
One last exhibition note: Metropolis II is up and running for its second weekend, now on its regular schedule. The artwork is operational only on Fridays through Sundays, at the following times:
Fridays: 12:30–1:30 pm; 2:30–3:30 pm; 4:30–5:30 pm; 6:30–7:30 pm
Weekends: 11:30 am–12:30 pm; 1:30–2:30 pm; 3:30–4:30 pm; 5:30–6:30 pm
In addition to exhibitions, there are also plenty of films to see this weekend. Tonight we hold a special, members-only screening of Oren Moverman's new film Rampart, starring Woody Harrelson, Ice Cube, Steve Buscemi, Sigourney Weaver, and more.  The screening, co-presented with the New York Times, is an exclusive benefit for LACMA members and members of LACMA Film Club, Film Independent, and the New York Times Film Club. If you want access to screenings like this one, or priority ticketing for popular events like our Live Reads (February's is already sold out!), join the Film Club.  
Saturday and Sunday we're offering a free film series, open to all: Contested Visions in Latin America through Film, in conjunction with the current exhibition Contested Visions in the Spanish Colonial World, which closes next weekend. See yesterday's Unframed post for a full rundown of the films, including trailers.
Sunday is a great day to enjoy lots of free activities, including the Contested Visions films, art-making activities during Andell Family Sunday—inspired by the upcoming Chinese New Year !—and a free concert by the Chamber Ensembles from the Crossroads School perform Beethoven, Ravel, and Brahms. (These events are free but admission to the galleries is still regular price.)
Scott Tennent