While Los Angeles may not figure directly in his work, Ellsworth Kelly has made a distinct impression on the city—from the close working relationships and friendships he has formed, through the collections that preserve his work, to the artists he continues to inspire. His latest exhibition, Ellsworth Kelly: Prints and Paintings, is now on view at LACMA.
In the 1960s, when his career was just beginning to gain traction in the competitive New York City art scene, Kelly had his first solo exhibition in Los Angeles at the Ferus Gallery (1965), and a number of L.A. patrons began to acquire his works. He would continue to exhibit regularly at Ferus and later at Irving Blum's gallery until 1973. One of his early supporters in L.A. was Betty Asher, who worked in the Los Angeles County Museum of Art's modern art department between 1966 and 1979, at which point she launched the Asher/Faure Gallery in West Hollywood and continued to distinguish herself as an astute collector.
The 1960s also saw the establishment on Melrose Avenue of the now-legendary print workshop Gemini G.E.L. by Ken Tyler, Sidney Felsen, and Stanley Grinstein. In their hope to attract the leading artists of the day, they first invited Kelly to make prints with them in 1968. After meeting with Tyler, Felsen, and Grinstein in New York, and taking into consideration the strong recommendation of Frank Stella and Barbara Rose, Kelly accepted the offer. He came to Gemini for the first time in January 1970, initiating what would become a forty-year working relationship.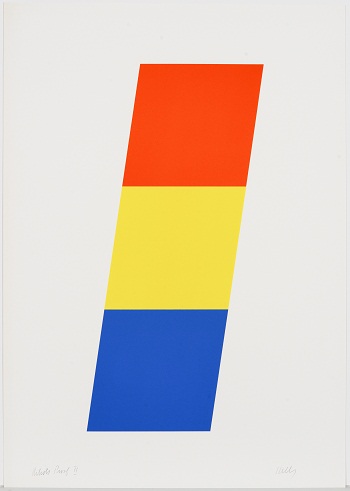 Ellsworth Kelly, Red-Orange Yellow Blue, 1970, lithograph on special Arjomari paper, collection of Jordan D. Schnitzer, © Ellsworth Kelly and Gemini G.E.L. Los Angeles
In Kelly's prints, although each edition proceeds according to its own requirements, the element of collaboration is always paramount, and the standards always stretch the limits of perfection. In large part, Kelly's dedication to Gemini rests on two factors: his utmost trust in the workshop's directors and master printers, and his preference for direct lithography from metal plates. Many presses, then and now, favor offset, which eliminates the problem of image reversal. But Kelly—who engages with printmaking intellectually as well as aesthetically—had learned to love the direct process early on, with Marcel Durassier at Imprimerie Maeght in Paris. The hydraulic lithographic presses Tyler had designed and installed for Gemini were doubtless an inducement to give the new workshop a try. Working with Gemini's printers to devise means of transferring drawings and hand-cut plastic negatives to the plate, Kelly has turned the technical challenges of direct lithography into conceptual triumphs.
In all media, Kelly achieves surface purity, essential form, and harmonious scale, according to his unerring personal sense of these elusive qualities. Printmaking in particular has served as a platform of sorts, on which all the variables can be placed and replaced. In requesting what must sometimes have seemed beyond the scope of the medium, Kelly has ended up expanding it.
Kelly's work has always appeared to advantage within the context of encyclopedic museums such as LACMA. It has utter integrity in the true spirit of Modernism, and it connects to the span of art history and visual culture. With his profound admiration of the traditions of other times and places, Kelly not only draws inspiration for his compositions, he leads us to discover archetypes of our own. We are privileged to premiere a comprehensive exhibition of Kelly's prints on the occasion of the artist's eighty-ninth year.
Ellsworth Kelly: Prints and Paintings co-curators Stephanie Barron and Britt Salvesen