It is with great sadness for us here at LACMA that we learn of Dorothea Tanning's recent passing. Tanning's immeasurable contribution to the arts leaves behind a legacy of innovative forms: paintings, prints, drawings, soft sculptures, collages, poems, and much more. Here in the American Art Department, it was truly a pleasure to become so well acquainted with Tanning's work. Having recently acquired her soft sculpture Xmas (1969) as part of LACMA's Collectors Committee acquisitions in 2010, our senior curator Ilene Susan Fort marveled at the numerous fabric sculptures Tanning made in her career, from the late 1960s to the early 1970s, some adorned with teeth, fur, and lace, stating "[these sculptures] clearly involve both the traditional feminine art of sewing and the blatant sexuality brandished by feminists at the time."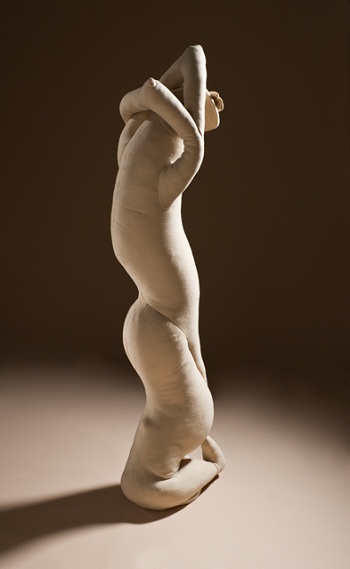 Dorothea Tanning, Xmas, 1969, purchased with funds provided by the 2010 Collectors Committee, with additional funds generously provided by Jodie Evans with Lekha Singh, The Rosenthal Family Foundation, Peg Yorkin, The Kayne Foundation, Susan Adelman in honor of the artist's 100th birthday, Irene Christopher, Viveca Paulin-Ferrell, American Art Deaccession Funds, Janice G. Gootkin, The Eileen F. and Mort H. Singer Jr. Family Fund in honor of Ilene Susan Fort and J. Patrice Marandel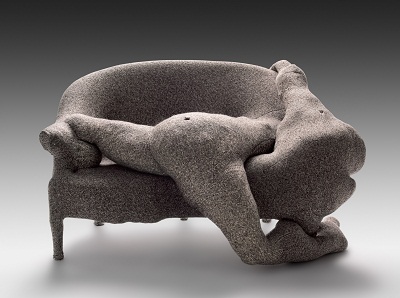 Dorothea Tanning, Rainy Day Canapé, 1970, Philadelphia Museum of Art, gift of an anonymous donor, 2002, © 2011 Dorothea Tanning Collection and Archive/Artist's Rights Society (ARS) New York/ADAGP, Paris, photo © The Philadelphia Museum of Art.
With more than a dozen works by Tanning in LACMA's special exhibition In Wonderland: The Surrealist Adventures of Women Artists in Mexico and the United States, the conversations among co-curators Fort and Tere Arcq, as well as research assistant Terri Geis, revealed fascinating details during the process of deciding which of her numerous pieces would best fit the themes of the show. From these discussions, it was interesting to learn that one of Tanning's avatars (a means of masking identity—a theme popular among surrealists) was a particular dog–in fact, a beloved pet–who appears in several of her works.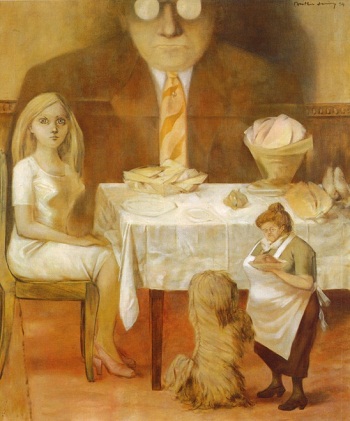 Dorothea Tanning, Portrait de famille (Family Portrait), 1954, Centre Pompidou, Paris, Musée National d'Art Moderne/Centre de Création Industrielle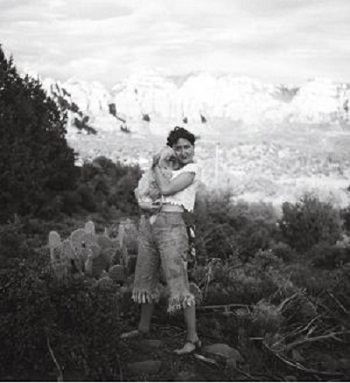 Photo of Dorothea Tanning by Lee Miller, courtesy Lee Miller Archives
While Tanning's work may have been most associated with the surrealist movement, her prolific work ethic in later years pushed her to experiment beyond surrealism, working with abstract forms on paper and even writing. For the time being, the inquisitive and imaginative spirit of her work resides in our galleries as she will be truly missed.
Devi Noor, Curatorial Administrator, American Art