I recently had the pleasure of interviewing Alison Saar, a sculptor who is a native Angeleno, over tea and coffee at Ray's on LACMA's campus. I wanted to ask her about the lifelong relationship she has had with the Watts Towers. She comes from a family immersed in art: Her mother, Betye Saar, is also an artist and her father, Richard Saar, was an art conservator. The family's connection with the Towers began with her maternal great-grandmother, a resident of Watts, and continued with her mother, who saw Simon Rodia's work in progress, before being passed along to Alison and even now to Alison's children. After discussing LACMA's Watts Towers conservation efforts, we got around to talking about Alison's connection to the Towers.
Lucas Casso: Could you tell me a little about your first memories of the Watts Towers?
Alison Saar: Well, actually, one of my first memories of the Towers is one of the first memories I have. I think I was three years old and my mother took myself and my sister [artist Lesley Saar], who must have been five or six, to the Towers. We must have been under one of the main towers, and when we looked up it was like a spider web. It was really wonderful for us as kids that age because it was a kind of micro-world where we could get really up close to things. Back then they let you climb on the towers and touch them, which is probably why we need conservation efforts now. It had a huge impact on me, and my mother's grandmother lived in the neighborhood, so my mother actually got to see Rodia working on the Towers. It was always a place we would go to visit on family outings.
LC: Do you have a favorite spot in Watts Towers?
AS: I love when you're underneath the towers and it creates this whole other view that you can't experience until you're within them. But I also like the walls and where Rodia's signature is, along with the stamps of his tools—that really stands out in my mind. It's funny though, because you go and you start looking at things you've never seen before. You recognize tiles and china from different eras, which I find pretty interesting. The Towers are a coming together of histories by using the objects and refuse from the community, and probably also beyond the community—a testimony to those who have lived in that neighborhood.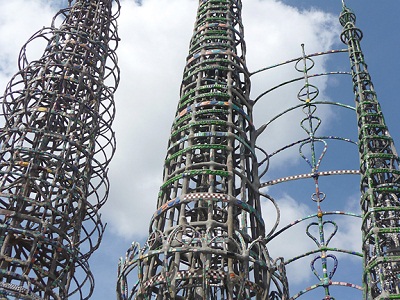 LC: As an artist who often uses found objects in your work, does Rodia's use of pottery shards and bottles from the neighborhood resonate with you?
AS: Very much so! I used to live in Laurel Canyon, an area devastated by fires in the 1950s, and every time it would rain, all of this stuff would turn up on the dirt roads – little bits of china and things that we would collect. I feel that Watts Towers let me know, even then as a little kid, that these things could be part of something else later and have the potential for a second life.
LC: How important was Rodia's status as an art "outsider" with no formal training to your appreciation of the Towers?
AS: Aside from just the aesthetics of them and the notion that he made them from nothing, there's the idea that he was compelled to make this thing without any sort of qualms as to whether it would fit into any sort of idea of "art" or whether it would be appreciated by anyone. The Towers just arose out of a passion. I think that was really inspirational for me and also caused me to look into other self-taught artists, specifically African American artists, who would just want to make their art out of this passion and vision of making beautiful things. So Rodia was certainly more inspiring than a lot of the artists I was learning about in school.
LC: Do the Towers still influence your work today?
AS: I think it all goes back to the notion of making things out of found objects, and not so much as objects in and of themselves, but sometimes portions or remnants of other objects. I know that it wasn't Rodia's intention per se—I think his intention was really to get materials that were beautiful and free—but he created this sort of refuse archive of the area. My interest in that part of the Towers is definitely still prevalent in the work that I do now—the idea that an object has a history and wisdom to it.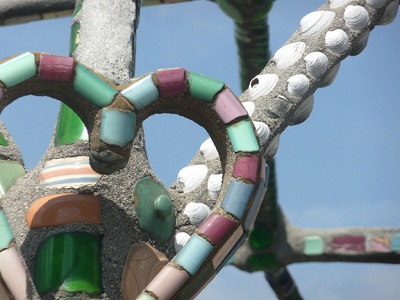 LC: Say you were able to ask Rodia one question about the Towers. What would it be?
AS: I would actually ask a technical question, like "How the heck did you do that?!" As an artist without any real technical training, it's really interesting to me in terms of how despite not knowing how to do something, you just figure it out.
LC: What would you say to someone who has never seen the Towers?
AS: You know, the Towers are one of L.A.'s seven-wonders-type things. They have this strange, magical mystery to them – why they're there, how they were built, etc. You come up to these things that are so otherworldly in this environment with all of these little houses . . . It really does alter your consciousness in terms of why to make art. Everything now is produced for a purpose, and I think it is a really interesting lesson in making things that are true to your heart.