LACMA's high school internship program gives students the opportunity to work with artists, learn about the art in our galleries, and lead exhibition tours. Our current crop of interns had the opportunity to visit the studio of Gronk, a founding member of Asco, a Chicano performance and conceptual art group that was the focus of LACMA's recent special exhibition, Asco: Elite of the Obscure, a Retrospective, 1972–1987, which is currently on view at the Williams College Museum of Art.
Visiting an artist's studio can be an unforgettable experience, especially if that artist is Gronk. Our high school interns had the rare chance to meet the artist and to view his most recent work.  Like the true collaborator he is known to be, Gronk asked the interns to share their ideas about art and a rich conversation ensued.
Here's what the interns report: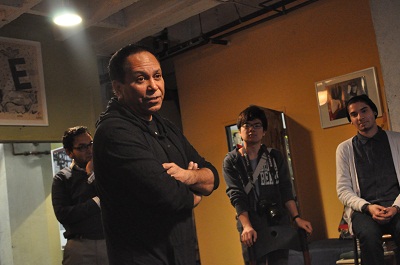 Gronk in his studio
Jelia Saidi: It was an incredible experience meeting someone with so much experience in the realm of art. Talking to him about jazz was one of the highlights of the trip.
Katarina Palermo: Gronk's studio was creative and perfectly suited for someone with his artistic mind. He inspired us all to work hard and to invest in our favorite artistic expressions, but he also encouraged us to try many different mediums of art.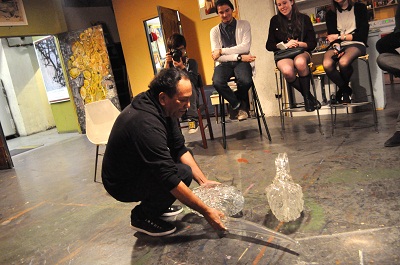 Gronk in his studio
Marilyn Liu: When I entered into his loft, my eyes could not stop moving around the room. He had art in almost every corner of his home! The interns and Gronk shared a dialogue between our artistic focuses and his. He was such an engaging storyteller that nearly all of us had lost track of time.
Nicole Staake: I found visiting Gronk's studio to be incredibly inspiring. I really enjoyed hearing about the origins of his work because I think that is something you cannot get from a museum show. He was incredibly welcoming and expressive, and I feel so fortunate to have had the opportunity to meet him.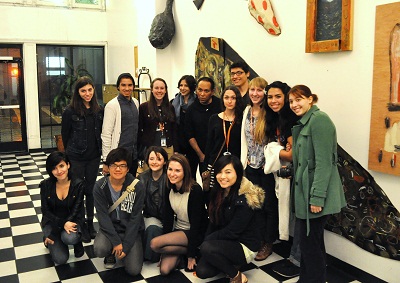 Gronk with LACMA's high school interns in his studio
Azalie Welsh:  Learning about Gronk's relationship to art set my own artistic drive burning brighter than it had before! Gronk's fascinating stories of experimentation and exploration opened my eyes to so many new and different possibilities in the art world. Visiting his studio was an amazing opportunity, and something I know I won't forget.
Nicole Cooke: My favorite story of Gronk's was about his dislike of sleeping in beds and how he will fall sleep anywhere but on a bed. I thought that was a very interesting quirk and made me start to notice the cushioned napping areas in his studio.
Harry Park: From set designs to glass blowing, Gronk has done almost every medium or form of art.  Gronk not only took interest and learned about our passion but also taught us more about himself by connecting our experiences with his.
LACMA's high school interns, compiled and edited by Sarah Jesse, Director of Community and School Programs, and Eduardo Sanchez and Ben Shaffer, Education Coordinators