Opening tomorrow is Common Places: Printing, Embroidery, and the Art of Global Mapping, a small exhibition highlighting a common thread between three textiles in LACMA's permanent collection—Alighero Boetti's 1979 Mappa, a cigarette silks quilt, and a seventeenth-century valance.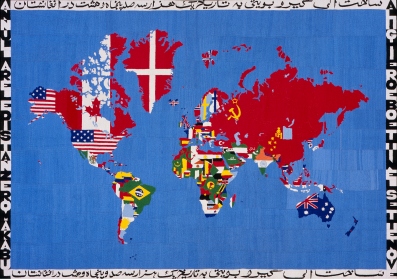 Alighiero Boetti, Mappa, 1979, purchased with funds provided by The Broad Contemporary Art Museum Foundation in honor of the museum's 40th anniversary
The exhibition joins four others currently on view—Maria Nordman FILMROOM: SMOKE, 1969–Present in the Art of the Americas Building; Ellsworth Kelly: Prints and Paintings in BCAM; and In Wonderland: The Surrealist Adventures of Women Artists in Mexico and the U.S. and California Design, 1935–1960 in the Resnick Pavilion.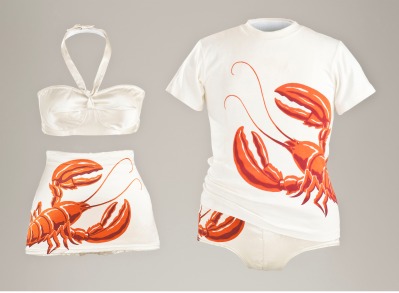 Mary Ann DeWeese, for Catalina Sportswear, California Lobster Bikini, Man's Shirt and Trunks, 1949, collection of Esther Ginsberg/Golyester Antiques, © 2011 The Warnaco Group, Inc. All rights reserved. For Authentic Fitness Corp., Catalina Sportswear
As a special event related to California Design, we asked the chefs from five L.A. food trucks to take inspiration from the exhibition and design special menu items on offer this Saturday. All five trucks will be parked in the lot directly across from Urban Light at Wilshire and Ogden.
Eames Living Room, as installed in California Design, 1935–1960: "Living in a Modern Way," installation view, © 2011 Eames Office LLC (eamesoffice.com)
Sunday offers a variety of free activities to choose from: bring your kids for art-making activites as part of Andell Family Sundays. You might also enjoy a free talk on Gustav Klimt's famous Portrait of Adele Bloch-Bauer by author Anne-Marie O'Connor, who recently published a book on the story behind painting's theft by Nazis during World War II and its eventual return, sixty years later following an arduous legal battle. Finally, on Sunday evening you can hear pianist Svetlana Smolina perform pieces by Rachmaninoff, Liszt, Chopin, and more as part of our free Sundays Live concert series.
Lastly, heads up: this is a three-day weekend, which means Presidents' Day is a Target Free Holiday Monday!
Scott Tennent