[The boulder for Michael Heizer's Levitated Mass is in Bixby Knolls for the day, where local officials are hosting a "Rock Party" from noon to 7 pm. For more information and continuing updates on the transport, click here.]
This weekend, while I was in Rowland Heights observing the megalith that is to be part of Levitated Mass, I overheard another viewer say, "That boulder would make the ancient Egyptians proud. It is almost as big as one of the stones from the Great Pyramid."
Megalith slated to become part of Michael Heizer's Levitated Mass, en route to Rowland Heights, during transport to the Los Angeles County Museum of Art, March 3, 2012, © Michael Heizer, photo by Tom Vinetz
Indeed, the ancient Egyptians were masters at moving enormous monoliths. However, the largest granite slabs roofing the burial chamber of the Great Pyramid weighed only eighty tons. Other Egyptian stones used in burial chambers, such as those from a pyramid at Saqqara, ranged in weight up to one hundred and fifty tons.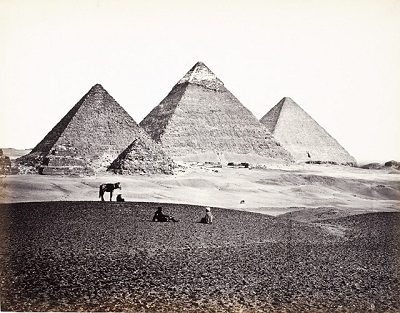 Francis Frith, Pyramids of El-Geezeh (from the southwest), c. 1857, the Marjorie and Leonard Vernon Collection, gift of The Annenberg Foundation, acquired from Carol Vernon and Robert Turbin, © 2012 Museum Associates/LACMA
The ancient Egyptians do hold the record for the second-largest moved stone—an enormous royal statue placed at the mortuary temple of Rameses II at Thebes. It once stood taller than sixty-two feet high and weighed more than a thousand tons, but it is now preserved as a shattered fragment, as poet Percy Bysshe Shelley described it: the "Half sunk, a shattered visage" lying on the sand.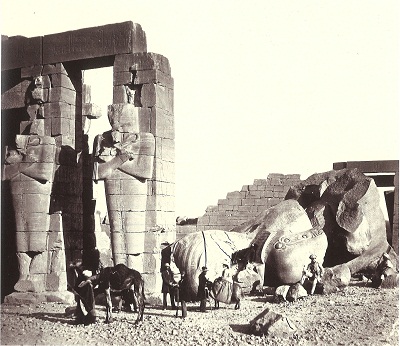 Francis Frith, The Ramesseum of El-Kurneh, Thebes (first view), c. 1857
Other Egyptian statues may have even been larger, based on fragments of works found in other Egyptian sites. However, the largest known moved stone is a boulder called the Thunder Stone, weighing in at 1250 tons. The Thunder Stone was moved into position in St. Petersburg, Russia, in the late eighteenth century to serve as the base of an equestrian statue of Peter the Great.
In some ways, walking beneath the huge 340-ton monolith of Michael Heizer's Levitated Mass at LACMA will be similar to the modern experience of entering the burial chambers of Egypt's pyramids with the knowledge that multi-ton slabs support the ceiling above and that you're standing under the weight of an enormous constructed human monument.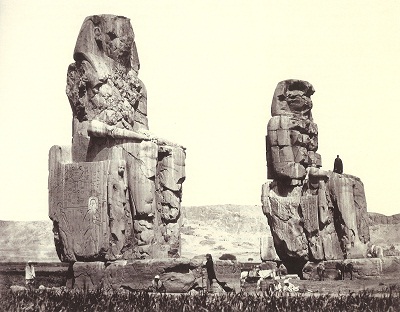 Francis Frith, Statues of the Plain, Thebes, 1858
Nearly four thousand years later, the Colossi of Memnon of ancient Egypt remain landmarks of human ingenuity. Certainly Michael Heizer's sculpture at LACMA will intrigue visitors to the western coast of this continent for many centuries to come.
Nancy Thomas, Curator of Egyptian Art and Deputy Director, Art Administration and Collections