For those of you following the journey of the megalith that is to be part of Michael Heizer's Levitated Mass, Friday night is the moment you've been waiting for. Starting around 10–11 pm, the transporter will leave its last stop—on Figueroa Street just north of Florence Avenue—and will travel its final leg to LACMA.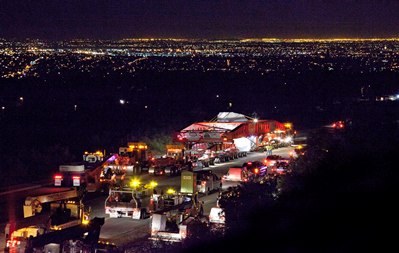 Megalith slated to become part of Michael Heizer's Levitated Mass, during transport to the Los Angeles County Museum of Art, © Michael Heizer, photo by Tom Vinetz
The transporter will travel north on Figueroa, going right past Exposition Park and the USC campus. It will turn left onto West Adams Boulevard and will cross Hoover, Vermont, and Normandie before turning right onto Western Avenue. From Western it will hang a left on Wilshire for the home stretch! (See the entire route the transporter has traveled.)
The big question, of course, is when all of this will happen. Unfortunately we can't be very specific as the journey itself is complicated and it's impossible to say how quickly or slowly the transporter will make each turn, get through each intersection, etc. For now, we are estimating that the transporter will arrive at the museum between 2–6 am.
The best way to keep tabs on the transporter's whereabouts will be to follow @LACMA on Twitter. We will be in the truck, traveling the whole route with the boulder and keeping you up to date all night long. If you're out there tweeting too, use hashtag #LevitatedMass so we can see what you're saying and retweet to our audience. No matter where you are along the route, you'll know when to expect the boulder to go by if you follow our Twitter updates.
You'll have opportunities all along the route to see the transporter go by. Road closures along the route will occur as it moves, so plan accordingly. Our best advice is to travel on streets parallel to the transporter in order to drive unimpeded.
If you want to see it actually arrive at LACMA, here's some more helpful info:
The museum itself will be closed, but the action is on Wilshire Boulevard.
Parking will be available in LACMA's lot at the corner of Wilshire and Spaulding Avenue (free). Our underground Sixth Street lot will be closed.
Parking at the Petersen Museum, located on Wilshire and Fairfax, will also be available ($10, enter from Fairfax). You can try to find street parking too, but please read all signs in the area before parking.
There will be bathrooms available at Ogden and Wilshire, directly across the street from Urban Light.
Note that Stark Bar will be open regular hours—closing at 11 pm. We will have a coffee cart next to Urban Light starting at 11 pm.
Food trucks will be parked at Ogden and Wilshire—No Tomatoes and Waffles de Liege.
When the transporter finally gets to the museum, it will turn from Wilshire onto Fairfax and then enter the museum from behind LACMA West. It will pull up right next to the slot that is the other major component of the work. For Saturday and Sunday only, we'll remove part of the construction fencing so you can get a good look at the transporter before it is disassembled. Starting Monday, everything goes under wraps—as much as you can put a 340-ton boulder under wraps. The next time you'll get a chance to see it up close, it will be a finished artwork. As of now we are expecting to open Levitated Mass to the public in the early summer. Keep your eyes on Unframed or the Levitated Mass page for updates on an opening date.
Scott Tennent