It's a busy weekend at LACMA, not least because we are opening a new exhibition, Children of the Plumed Serpent: The Legacy of Quetzalcoatl in Ancient Mexico. The show features approximately 200 objects dating from the tenth century up to 1580, including beautiful painted manuscripts, ceramics, textiles, and large sculptures.  These are not the Maya or Aztec cultures, but rather a confederacy of kingdoms in southern Mexico (known today as Oaxaca, Pueblo, and Tlaxcala). They were devoted to the deity Quetzalcoatl, whose name translates into "plumed serpent." The exhibition is currently open to members only, and opens to the public on Sunday.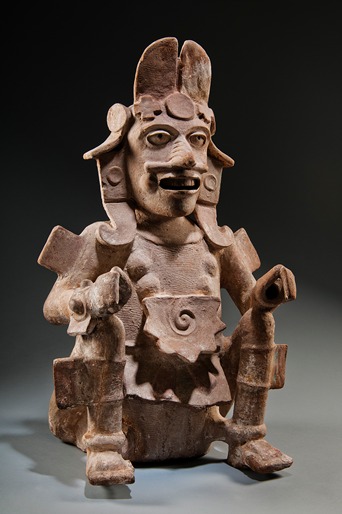 Seated Figure of Quetzalcoatl, Mexico, Veracruz, 600–900, Museo de Antropología, Xalapa, Universidad Veracruzana, Xalapa, photo © 2012 Museum Associates/LACMA, by Jorge Pérez de Lara
Tonight in the Bing Theater, in conjunction with California Design, 1930–1965, we will screen midcentury cartoons from the United Productions of America (UPA) studio. It was at the UPA where animators experimented with distinctly non-Disney animation styles. Animation historians Jerry Beck and Adam Abraham will be on hand to host the event.
Happening concurrently, author Judith Freeman will read from her work, joined by students and faculty of USC's Master of Professional Writing Program. The reading is free and starts at 7:30 pm in the Brown Auditorium, downstairs from the Bing Theater.
Saturday marks the official end of the region-wide Pacific Standard Time exhibition initiative, and we're celebrating along with eighteen other museums by offering free admission all day (excluding In Wonderland). Come see our two Pacific Standard Time exhibitions, California Design and Maria Nordman SMOKE: FILMROOM, 1967–Present. Helping us celebrate California-style will be the Surf City All-Stars, featuring musicians from Brian Wilson's band and Jan & Dean, who will give a free concert at 5 pm.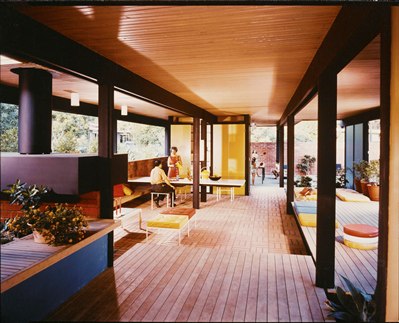 Straub & Hensman Buff, Recreation Pavilion, Mirman House, Arcadia, 1958, photo by Julius Shulman, 1959, © J. Paul Getty Trust. Used with permission. Julius Shulman Photography Archive, Research Library at the Getty Research Insitute
While you're enjoying your free Saturday at LACMA, be sure to check out Chris Burden's Metropolis II, exhibitions on Ellsworth Kelly and Robert Adams, and a free lecture about Frida Kahlo's Portrait of Dorothy Hale (in conjunction with the ticketed In Wonderland, which features a number of Kahlo paintings).
End your Saturday with a screening of the 2008 film Bottle Shock, which depicts the shocking 1976 blind tasting by French judges that resulted in their choosing California wines over French, launching the California wine industry we know today. A Q&A will follow with the film's producers and representatives from the wineries that received the highest marks at that 1976 tasting.
The weekend of activities continues on Sunday, when Children of the Plumed Serpent officially opens to the public. Kids will enjoy our free Andell Family Sunday activities, while adults may be interested in attending a lecture on the Chinese art market by Tina Zonars and Ingrid Dudek of Christie's. The weekend concludes with a free performance of chamber works from the Colburn Conservatory Ensembles.  
Scott Tennent