Last March you watched as a 340-ton boulder was transported from Riverside County to LACMA. Ever since its arrival, the question we've gotten the most around here has been "when can we see Michael Heizer's  finished artwork?" Well, we've got an answer for you: on Sunday, June 24, LACMA will officially open  Levitated Mass to the public. Finally, you will be able to walk through the long concrete slot—one-and-a-half-football-fields long—descending 15 feet as the giant granite megalith rises over your head.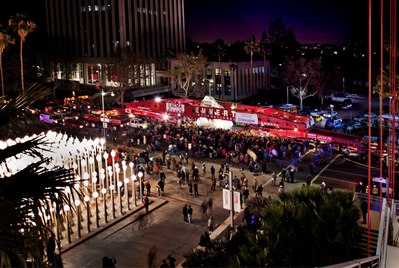 Megalith slated to become part of Michael Heizer's "Levitated Mass," arriving to LACMA on March 10. Photo by Tom Vinetz, © Michael Heizer
As a special thank-you to the many communities through which the megalith traveled on its historic journey, LACMA is offering free admission to residents of select zip codes from along the route for the entire week of June 24–July 1. With proof of residence, such as a driver's license, members of these communities will be granted free admission to LACMA's galleries. Check this list to see if your neighborhood was on the route.
So, mark your calendars! The countdown begins.
Scott Tennent