This past weekend, LACMA hosted a panel, Building Collections of African American Art: Los Angeles Perspectives, which provided a great opportunity for collectors, curators, experts, and the public to examine why and how individuals and institutions collect African American art and to examine the significance of doing so. Janine and Lyndon Barrois (collectors for twelve years), Linda and Paul Gotskind (collectors for thirty-eight years), and Aryn Drake-Lee and Jesse Williams (collectors for three years) talked with Dr. Halima Taha about their collections and experiences—and their responsibilities as collectors to the art, the artists, and even to art history. The conversation not only illuminated their passion for African American art and artists and their desire to share their collections with the public in a variety of ways, but it also provided guidance and inspiration for beginning art collectors.
Collectors from left to right: Jesse Williams, Aryn Drake-Lee, Linda Gotskind, Paul Gotskind, Lyndon Barrois, Janine Barrois, Halima Taha
In opening remarks, LAMCA deputy director Brooke Davis Anderson addressed why we were focusing on African American art to begin with, noting that first and foremost African American artists make, and historically have made, great art, museum-worthy and therefore LACMA-worthy art that should be acquired and exhibited. Furthermore, she cited the fundamental necessity of focusing on historically marginalized artists, such as artists of African descent, to reinvigorate and transform traditional conceptions and collections of historical American art (my area of specialty), collections typically defined within museums and academia as art of the United States created from the colonial era through the mid-twentieth century.
To bring this mission forward to the present day is also the responsibility of collectors and curators of contemporary art who, in the words of collector and panelist Janine Barrois, "need to work to preserve the history of African Americans figuratively and conceptually and document our time so that African American artists have a place at the table, and we will know what African American artists were saying." To provide a foundation for the museum's historical-to-contemporary collecting mission, contemporary art curator Franklin Sirmans and I offered a brief history of the building of LACMA's African American art collections, from the first acquisition in 1922 to the most recent, an ongoing process introduced in a previous post on the subject.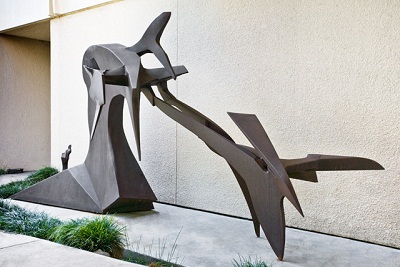 Richard Howard Hunt, Extended Forms, 1975, purchased with funds provided by The Ahmanson Foundation, the League of Allied Arts, the Charles R. Drew Medical Society Auxiliary, and the Los Agneles Chapter of Links, Inc.
One important African American art acquisition we highlighted was a major collaborative effort between donors and the museum to acquire Extended Forms (1975) by Richard Hunt (b. 1935), one of America's foremost sculptors.  A 1957 graduate of the School of the Art Institute of Chicago, where he continues to live and work, Hunt was the first African American artist to have a major retrospective at the Museum of Modern Art in New York (1971). In celebration of LACMA's acquisition of Hunt's Extended Forms in 1980, the artist created a limited edition lithograph, Untitled, 1980, for the museum's then active Black Historical Advisory Group led by former trustee Robert Wilson.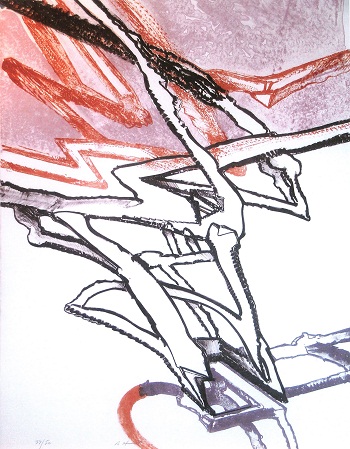 Richard Hunt, Untitled, 1980, signed and numbered edition of fifty, printed by Will Petersen, Master Printer, with Cynthia D. Archer, Associate, Plucked Chicken Press, Chicago, IL
The prints were sold to support the acquisition of additional works by African American artists. Though the group no longer exists, proceeds made possible acquisitions of works by John Biggers, Adrian Piper, and Therman Statom.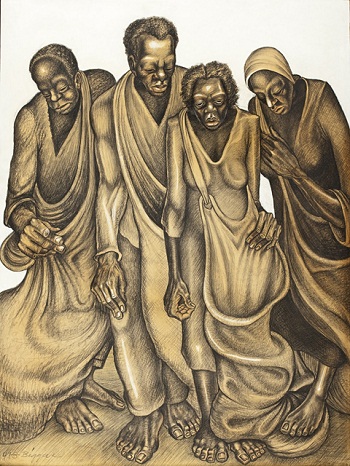 John Biggers, Cotton Pickers, 1947, purchased with funds provided by Mr. and Mrs. Thomas H. Crawford Jr. and the Black Art Acquisition Fund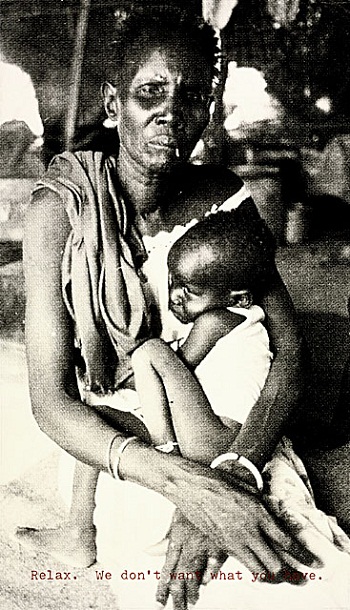 Adrian Piper, Ur Mutter #4: Relax. We don't want what you have., 1989, Black American Artists Fund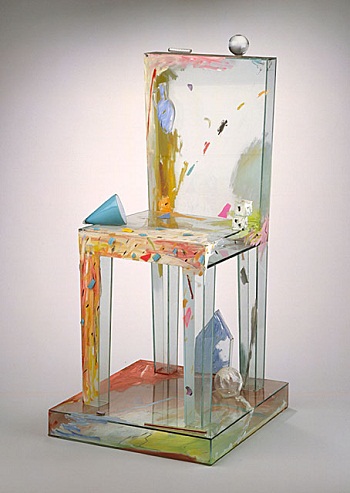 Therman Statom, Chair on Base, 1987, Black American Artists Fund
We announced on Saturday that the remaining thirty-nine prints have been made available again to benefit LACMA's African American Art Fund. (For more information, or to purchase, please call 323 857-6587 or email artcatalogues@lacma.org.)  We hope that the works we may be able to acquire with the African American Art Fund will inspire many more lively discussions like Saturday's panel, scholarship, and exhibitions of African American art at LACMA and beyond.
Austen Bailly, Associate Curator, American Art