After eight months on view, 350,000 visitors, and three catalogue printings, California Design, 1930–1965 will close its doors for the last time this Sunday. While it will be sad to watch the culmination of six years of work dispersed to the four winds, it is encouraging to see that the spirit of modern California design lives on through many talented designers and craftspeople.
One of those exemplary figures is Trina Turk, an incredibly distinguished designer and entrepreneur. She is that rare breed—a genuine California native—and her aesthetic is informed by both the casual yet sophisticated lifestyle and the natural environment of her home state. She founded her company in 1995 with her husband, photographer Jonathan Skow, and they have built an incredibly successful line of clothing, accessories, and home décor that is heavily influenced by her passion for architecture and design. It is a little-known fact that Trina is a formidable collector of California design and has filled her two homes with an outstanding collection of furniture and objects. I recently had the opportunity to sit down with Trina to talk about her design inspiration and her passion for collecting.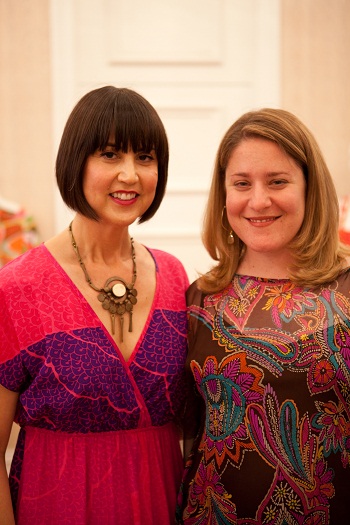 Trina Turk and Bobbye Tigerman
Bobbye Tigerman: Trina, can you tell me about the origins of your interest in design?
Trina Turk: My husband, Jonathan, and I were really interested in New Wave music in the early 1980s, and I think a lot of the interest in mid-century design stemmed from that. We spent much more time thrift shopping than we actually spent in classes at the University of Washington (where I studied apparel design). We were fascinated by rockabilly, which was a 1950s-derived style, and also the B-52s, so our interest in the decorative arts really started with fashion and then led to the architecture, ceramics, and furniture that complemented those fashion styles.
BT: And is thrift shopping still a favorite pastime?
TT: Yes, but it's not as good as it used to be.
BT: That's what they all say.
TT: It's true. Even ten years ago in Palm Springs, we could go thrift shopping and leave with bagfuls of beautiful vintage clothing, but those days are over.
BT: Where do you go now for your inspiration?
TT: We still do a lot of shopping, although we've moved up the food chain from Value Village in the Seattle area. We make a habit of going to both the Palm Springs and the Los Angeles Modernism shows. One of the places where I've learned a lot about design is Los Angeles Modern Auctions. Poring over those catalogues and looking at objects at previews have been incredible learning experiences for us.
BT: One could say that you truly personify and live California design. You own two remarkable modern homes, one by architect J.R. Davidson in Los Feliz, and the incredible Ship of the Desert, a streamlined, boat-like house that hugs the hills in Palm Springs. Can you talk a little bit about how you found your houses and what drew you to them?
TT: My husband, Jonathan, was working as a fashion stylist in the 1990s and did a lot of photo shoots in Palm Springs, so we started looking for a mid-century home there. Our real estate agent took us to see the Ship of the Desert and, although it was not what we were looking for at the time—it was too big, it was in terrible shape, we couldn't afford it—we just fell in love. At that point, it was a stretch for us to buy it, but we felt a deep emotional connection to the house and decided to take the plunge. We found our house in Los Angeles later. It was built in 1948 for the Schapiro family. Jonathan had frequently done photo shoots at that house and would always come home after a shoot and describe it as the house we needed to find. Once when he was out of town, our real estate agent took me to a modern house, and I realized it was the same one that he had described to me so many times. We bought the house and have lived there for ten years.
BT: What is the house like?
TT: It's classic mid-century. It was designed in the early 1940s, but not built until the late 1940s because it was difficult to build during World War II. It's exactly what I think of as the epitome of California living. It has walls of glass, a very bright interior, and of course, a pool.
BT: I know you've filled your house with lots of amazing objects, and it sounds like it started way back in Washington with the thrift stores. But can you talk a little bit about your collecting and the particular designers that you collect in depth?
TT: One of the designers that I admire a lot is Claire Falkenstein. She did a lot of jewelry and sculptures, as well as the gates of Peggy Guggenheim's museum in Venice. They're made of twisted metal with pieces of colored glass embedded in them.
BT: That was a remarkable commission. And if you don't want to go all the way to Venice, Italy, to see them, you can see the model for the Guggenheim gates in the California Design show at LACMA now.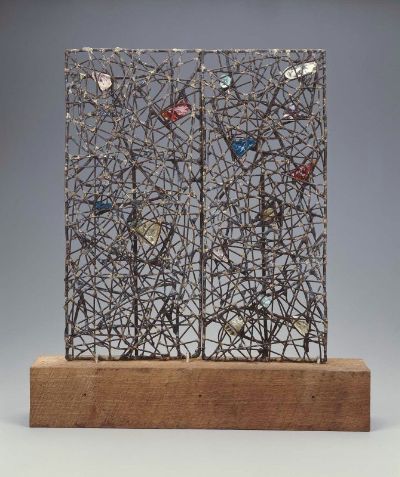 Claire Falkenstein, Model for garden gate of Peggy Guggenheim Collection, Venice, 1961, collection of the Museum of Fine Arts, Boston, gift of Mrs. Peggy Guggenheim
TT: You can see Claire's work all over town. She did stained glass windows for St. Basil Catholic Church (at Wilshire and Kingsley Dr. in Koreatown), and she made a monumental sculpture fountain for the courtyard of the Long Beach Museum of Art. The museum restaurant is actually named "Claire's" after the sculpture. She also did extraordinary jewelry that didn't attach to your body in the usual way and was often made of non-precious materials like brass.
BT: A favorite curator's game is "What would you take home?" If you could keep one piece from the California Design show, what would it be?
TT: I would take home the Eames house and I would live in it, and then I would park my white Avanti in front of it! And I would wear the Claire Falkenstein necklace.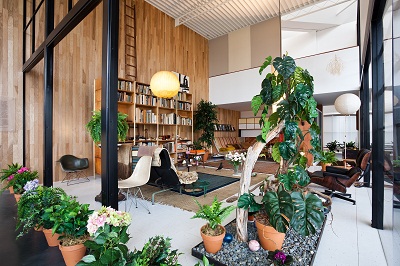 Installation view, Charles and Ray Eames House living room, California Design, 1930–1965: "Living in a Modern Way," October 1, 2011–June 3, 2012, © 2012 Eames Office LLC (eamesoffice.com), photo © 2012 Museum Associates/LACMA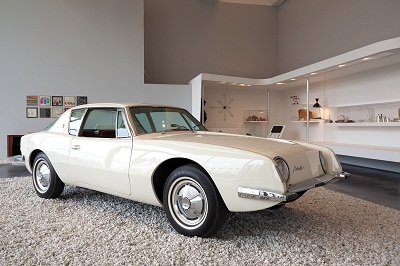 Installation view, Raymond Loewy for Studebaker Corporation, Avanti, 1961, collection of the Petersen Automotive Museum, California Design, 1930–1965: "Living in a Modern Way," October 1, 2011–June 3, 2012, photo © 2012 Museum Associates/LACMA
Claire Falkenstein, Necklace, c. 1948, collection of the Long Beach Museum of Art, gift of the Falkenstein Foundation
BT: My last question is about how you combine the essence of the mid-century period with contemporary style and how you make it relevant to today.
TT: In women's fashion, it never really works to just knock off a vintage garment exactly because today's bodies are different, today's foundation garments are different, and there's been a lot of technological development in fabrication since the 1950s. We use patterns found in vintage clothing for inspiration and interpret them for today's taste and color preferences. I see that my job is to be inspired by the vintage material but to make it modern and relevant for today.
Bobbye Tigerman, Assistant Curator, Decorative Arts and Design 
Special thanks to Aralyn Beaumont and Karen Kitayama for the transcript of this conversation.