Bring your dancing shoes and come down to LACMA one of these Saturdays before it's too late. Ending September 1, LACMA's free Latin Sounds concert series is the perfect way to celebrate both Latin music and art. We have a fantastic line up of musicians performing this season, including Melena on August 4 or Mongorama August 11.
One of the most essential instruments in the world of Latin jazz is the drum, and both these artists incorporate harmonious drum beats and strong percussion into their music. The drum is such an ancient and powerful instrument that helps create celebrations and ceremonies, and it even transcends borders.
Exploring LACMA's  Latin America art galleries is a perfect precursor to the evening's performances. Artist Perdo Figari took pride in painting Candombe celebrations in his work. These dance ceremonies from Uruguay are hundreds of years old but have an origin that's rooted in Africa just like the music that is being featured in our Latin Sounds series.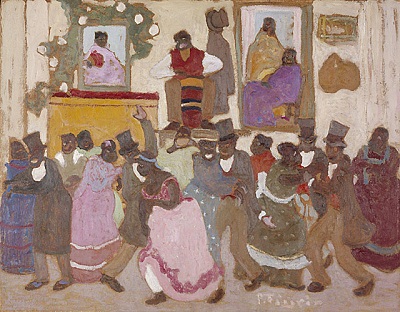 Pedro Figari, Dancing People (Candombe), 1920, gift of Gregory Peck
Explore the galleries further and see how drums and other musical instruments are depicted in ancient Mexico. Take for example these two seated musicians from Colima, Mexico. Notice how one is using a conch shell as an instrument while the other play a drum.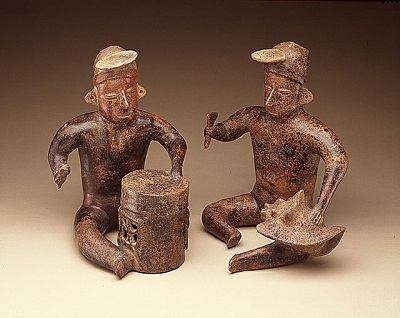 Musicians, Mexico, Colima, 200 BC–500 AD, The Proctor Stafford Collection, purchased with funds provided by Mr. and Mrs. Allan C. Balch
Or for a more imaginative representation of a musician form Latin America, feast your eyes on this vessel in the form of a beautiful composite animal which appears to look like a feather dog. If you pay close attention to this one man band you'll notice that in his right hand he is holding a rattle while in his left hand he holds a flute.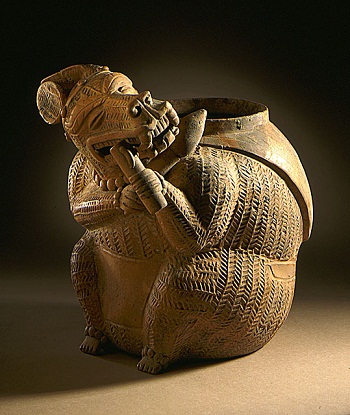 Vessel in the Form of a Composite Animal, Mexico, Teotihuacan, Teotihuacán, 200–700, gift of Constance McCormick Fearing
Latin Sounds concerts are a fun way to experience music, art, and dancing. So don't miss one of the few remaining performances—we hope to see you here!
Eduardo Sanchez, Education Coordinator